Details

Created: 19 August 2015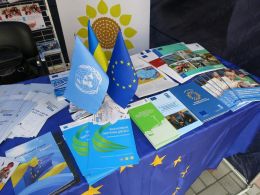 CBA project evaluated and approved for financing the first 14 micro projects received from associations of co-owners of multi-apartment buildings (ACMB) from Uzhhorod and Khust (Zakarpattia region) and also from Dobropillia (Donetsk region).
Co-owners fulfilled all CBA Project recommendations, prepared the necessary documentation, hold competitive tenders for the vendor selection, received results from state expertize and sent proper micro project proposal documentation to the Project experts.
After signing Grant agreement with UNDP, which copies had been already sent to all 14 ACMBs, they will get first tranches of UNDP financial aid, set up contracts with selected vendors and technical advisors, and start micro projects implementation.
The main kinds of work on these micro projects are front insulation, replacement windows and doors with energy efficient ones in the places of public use, major repair of the roof and front of the buildings.
Good luck to the "pioneers"!