Details

Created: 23 December 2015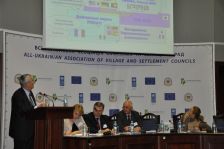 With support of joint EU/UNDP Project "Community Based Approach to Local Development" (CBA), Local Self-Governance Forum on the topic "New opportunities for community empowerment" have taken place in Kyiv on 21 December 2015. The Forum is aimed at providing practical support to the recently created united territorial communities in their organizational development, effective exercise of power and development of the territories. The CBA Project launched the Forum that was opened by Svitlana Slabinska, CBA Monitoring and Communication Specialist, Mykola Fursenko, Head of the All-Ukrainian Association of Village and Settlement Councils, Juris Poikans, Ambassador Extraordinary and Plenipotentiary of the Republic of Latvia to Ukraine, and Ukraine MPs Anna Gopko and Yuriy Derevyanko.
The Forum opened with a presentation of CBA Project and the best practices of community development promoted by the project. In particular, CBA partners in the regions, Victoria Chernikova from Donetsk oblast and Yuriy Shylo from Zaporizka oblast, told about successful implementation of CBA Project in their regions. The Forum also hosted another important event, a presentation of results of the project implemented under CBA umbrella "Knowledge portal" that offers the instruments for replication of methodology and experience of development project implementation.
Forum participants also had an opportunity to discuss different aspect of united communities development and how they can cope with existing challenges. There were also panel discussions focused on the topics of changes in local self-governance, functioning of administrative services centers, social protection and health.
An exhibition "Economic development of united communities: opportunities for promoting empowerment" was also presented in the framework of the Forum.