Details

Created: 12 October 2016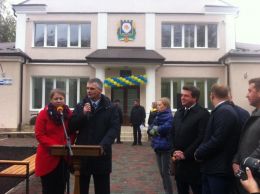 On Wednesday, 12 October in Shumsky amalgamated territorial community in Ternopil region the joint EU/UNDP "Community Based Approach to Local Development" (CBA) Project in partnership with Shumsk city council officially opened reconstructed premise of the Center of Administrative Services Delivery (CASD). Since now more than 20 ths. members of this community can quickly receive high quality administrative services.
«Reform of Decentralization is of high priority for Ukraine. Our Project prepared a background for the process of decentralization in Ukraine we supported communities to self-mobilize, and to manage their lives by themselves. Now we can see that implementation of our projects is impossible without support on local level and from authorities, local selve-governing bodies and without initiative itself" underlined Ms. Myroslava Didukh Project Manager of the Delegation of the European Union to Ukraine
"We work in Ukraine since 2008 and we have a solid experience of project implementation in Ternopil region. I have been to Shumsk several times and I was impressed by people who are so willing to work and support. It is easy to work because we feel support on local level. This is a key for success» stressed International Project Manager of the CBA Project Mr. Hendrik van Zyl
Refurbishment of the CASD, procurement of the furniture and equipment was done in terms of the piloting project of the EU/UNDP CBA to create Centers of Administrative Services Delivery (TsNAP) and improve conditions for Centers in 2 recently amalgamated territorial communities in two selected regions – Ternopil and Rivne. The budget of the microproject on developing TsNAP in Shumsk amalgamated community is USD 33 ths, out of which EU/UNDP Project provided – USD 25 ths, and city council provided – USD 8 ths.
The main aim of the piloting project is to develop efficient TsNAP working system for amalgamated territorial communities, to create favorable conditions for local social services development, to introduce electronic document management, to support local self-governing bodies in the decentralization process. Myliatska and Shumska amalgamated territorial communities were selected by the CBA Project to create Centers of Administrative Services Delivery on a contest basis according to such criteria as: technical feasibility, fastest possible completion of the task, level of commitment from local authorities, ensure continuation of services delivery after reconstruction work is accomplished.