The first community of CBA project in Ternopilsky region accomplidshed its micro-project "School Bus"and invited UNDP and EC Delegation leadership to visit the inauguration ceremony.

On 23 May 2009, the community of Vyshgorodok (Ternopilsky district, Ternopil region) welcomed the high level delegation of donors and local partners to participate in the ceremony of inauguration of the school bus. The micro-project on procurement of the bus was designed by the organization of local community "Nadiya" within the framework of its cooperation with EU/UNDP Community Based Approach to Local Development Project. It is one of the most vivid examples of fruitful cooperation between local community and local authorities, with mediation and financial assistance of international organizations.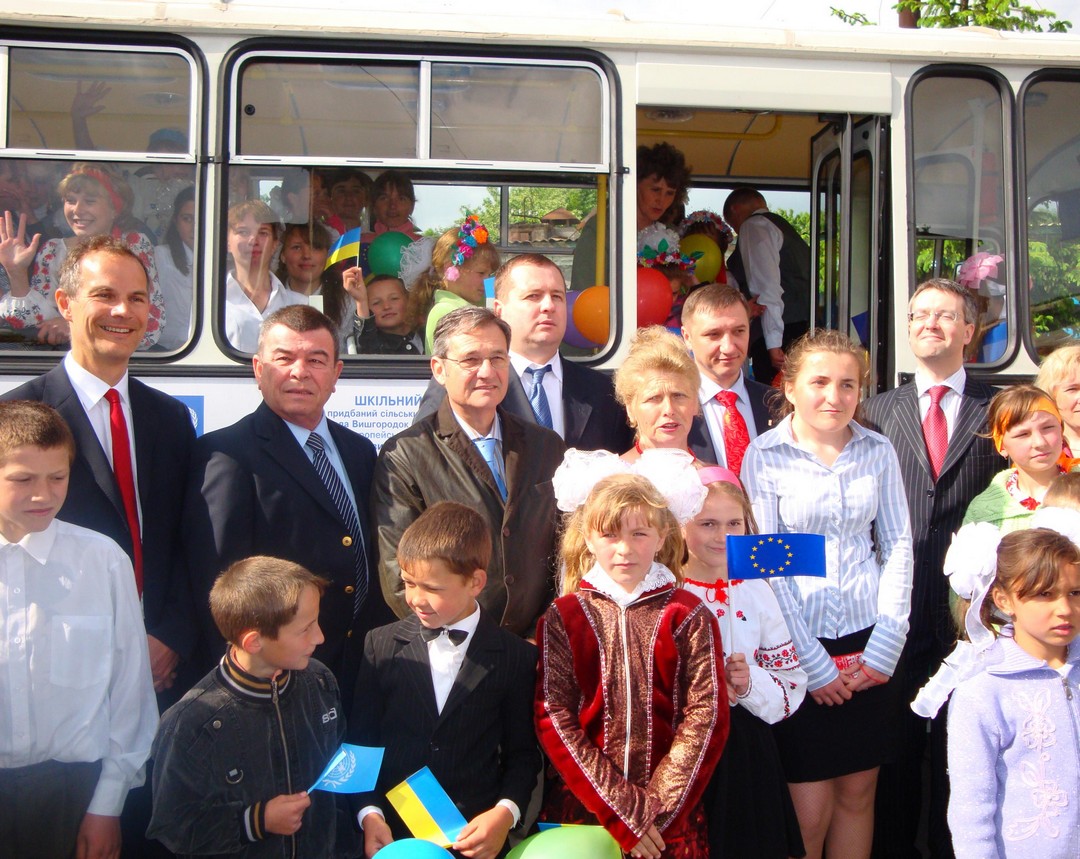 The delegation of high level officials from international organizations and foreign missions to Ukraine came to observe the example of efficient use of donors' funds when multiplied by the effort of local communitiy and cooperation from local authorities. Local Community open-heartedly welcomed the guests among which were: Okeksiy Kayda, Head of Regional Council, Ercan Murat Resident Representative UNDP Ukraine a.i., Joanna Kazana-Wisniowiecka, Deputy Resident Representative UNDP Ukraine, Jose Manuel Pinto Teixeira Head of the Delegation of the European Commission to Ukraine and Ambassadors of Bulgaria, Czech Republic, Greece, Germany, Hungary, Poland, Great Britain and Turkey.
Congratulating the community, Mr. Ercan Murat mentioned that UDP Ukraine acts with orientation to the human component, such as people's needs, living conditions, expectations about education, social and medical services and life expectancy. "People should be in the centre of development processes, they should decide what they need, like this particular community did when they defined the school bus as their priority".

Mr. Jose Manuel Pinto Teixeira pointed out that "there is no better way to celebrate Europe Day than to come to this village and participate in the ceremony of inauguration of this Vyshgorodok community school bus. This illustrates most vividly the dimensions of cooperation between the European Union and Ukraine".

The project of purchase of the news school bus was implemented with support of EU/UNDP CBA Project (UAH 77 878), Ternopil regional administration/council (UAH 25 000), Lanovetska district administration/council (UAH 52887) and village community organization "Nadiya" which contributed with UAH 7790. Community composed of 255 members started working on this micro-project in August 2008 which was defined as priority by the majority of community members. The school bus will benefit 42 families of 8 villages whose children will now have easier and more comfortable way of transportation to local school.