A group of 11 Community Mobilization Assistants from Lvivska, Ternopilska, Zakarpatska, Vinnytska, Chernivetska, Odesa and Zaporizka oblasts was trained on 26-31 May in Rivne.
The assistants will be coordinating CBA activities in the regions, directing the work of Oblast Implementation Units / Community Resource Centres and mobilizing communities participating in the Project.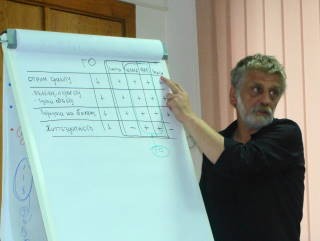 11 new members of CBA and 9 coordinators from Oblast Administrations appointed to work with CBA team were full-time engaged in the activities that allowed them to deepen their knowledge on the subject, define strategy and plans for their work at regional level. Among other positive effects of the training, participants noted the team-building spirit that governed the whole event. Other comments of training participants are as follows:

Apart from providing us with valuable knowledge, the training turned us - newly recruited assistants from different regions – into a team, created solid groud for further exchange of experience, sharing optimal ways of implementing the CBA initiative in our respective regions.
Volodymyr Staryk, CDA from Chernivetska oblast

Thaining provided us with general understanding of the mechanisms of this Project, and enabled us to formulate a set of clear strategy of our work at the regional level.
Liudmyla Yamshchykova, CDA from Odeska oblast

Many theoretical aspects were systematized during this training. Also, internal procedures and rules were made clear so that functioning of the OIU is smooth and efficient.
Oleksandf Sofiy, CDA from Lvivska oblast

The training was useful and valuable for the beginning of our practical activities in the regions. I acquired a lot of new knowledge which I will use in my work at CBA implementation in Zaporizka oblast.
Iryna Grebeniuk, CDA from Zaporizka oblast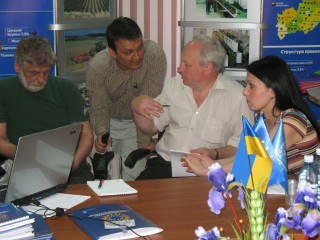 Since 25 March, the first 9 Oblast Implementation Units started its work in Rivnenska, Poltavska, Sumska, Luhanska, Chernihivska, Zhytomyrska, Ivano-Frankivska, Khersonska and Kyivska oblasts.
The 3rd group of Community Development Assistants is scheduled for end July, with participation of 22 CBA staff and 8 coordinators from Oblast State Administrations.

Contacts of all Community Development Assistants/Coordinators of Oblast Implementation Units can be found at http://cba.org.ua/Contactus.aspx