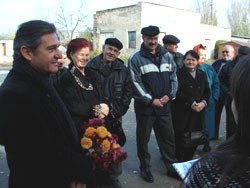 On 15 November, Head of the Delegation of the European Commission in Ukraine, Ambassador Jose Manuel Pinto Teixeira visited community of Shabo (Bilhorod-Dnistrovskyi district of Odessa region), participating in EU/UNDP Community Based Approach to Local Development Project. The aim of the visit was getting acquainted with community and familiarizing with its activities on improvement of their living quality.

Inhabitants of a multi-apartment building of Shabo village got organized and registered as organization of co-owners of multi-apartment buildings "Kvartal". It now is one of pilot 40 communities of CBA Project in Odessa region. Community held several meetings to elect leadership of their organization and discuss their needs and priorities in improvement of their living conditions. Among a number of problems, installation of a heating system was defined as priority. It will be shaped as project proposal, to be co-funded by CBA Project (50%), local budget (45%) and community (5%).

Local people already noted that the benefit of getting organized: a more enhanced community is now repairing and insulating the façade of the building at their own cost. Moreover, inhabitants of the neighbouring building decided to join the community organization "Kvartal" to jointly carry out initiatives on improvement of their living conditions.

Community presented to the Head of the Delegation their organization and shared their plans. They also demonstrated different appliances which they are using to heat their apartments where central heating is off for several years now.

J.M. Pinto Teixeira thanked the community for hospitality and noted: "Work that we do in Kyiv is focused on relation with institution and does not involve much interaction with community. Although its results are significant, they are not immediately visible. I am pleased to see that the European Union also funds initiatives that help people change their lives already now. For me it was a very touching experience to meet such an active and organized community of Shabo village. Despite difficulties, this community mostly consisting of pensioners is taking its life in its own hands, and they can serve as example for other Ukrainian communities."

At the end of the meeting, community thanked the Ambassador for help that the European Union provides to Ukrainian communities and assured that they are determined to realize this as well as many more other projects to improve their lives.