Donetsk, 25 February 2011: Olivier Adam, UN Resident Coordinator attended the conference "CBA Project in Donetska Oblast: Results, Perspectives, Innovations" marking the closure of the first phase of CBA Project, and outlining the perspectives of cooperation.
The conference was aimed at presenting the results and achievements of community development activities in Donetska oblast, implemented by EU/UNDP CBA Project in partnership with oblast administration, oblast council and 8 pilot rayons: Artemivsky, Dobropilsky, Kostyantynivsky, Krasnoarmiysky, Novoazovsky, Slovyansky, Starobeshivsky and Telmanivsky. Mykola Zahoruyko, Head of Association of Local Governments of Donetska oblast, represented the regional authorities. Heads of pilot rayons and village councils attended the conference to present their achievements, heads of non-pilot areas came to learn from the experience of their neighbours and enquire about perspectives of cooperation with CBA Project in future. Special interest of participants was evoked by an original exhibition of children's drawings and creative works "Community Based Approach to Local Development with Children's Eyes".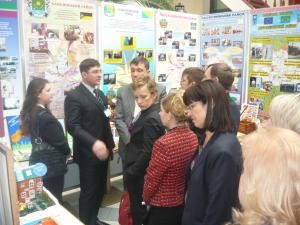 One of the suggested pilot projects is aimed at development of small towns under support of socially responsible business. CBA methodology of community development is to be used in order to develop capacities of local citizens to define, design and implement initiatives that are of primary importance for their community. In addition to donors' funds and input from local budget and community members, micro-projects are to be co-financed by local business. In particular, Metinvest expressed their interest in supporting this pilot project in towns where their plants are situated, namely in Yunokomunarivsk and Vuhlehirsk.
Another important component of CBA in the second phase will be the cooperation with academia, aimed at introducing the approach into teaching programmes. In Donetska oblast, UNDP has signed partnership with Donetsk State University of Management. During the conference, its rector Oleksandr Povazhny presented his vision of the future cooperation between the University and CBA Project.
Preceding the conference, a meeting was organized between Olivier Adam, UN Resident Coordinator, and Anatoliy Blyzniuk Governor of Donetska oblast in order to summarize the results of cooperation and discuss the scope of future partnership. During the meeting, a letter of intent was signed between Donetska Oblast State Administration, Donetska Oblast Council and UNDP outlining such priorities as promoting community based approach and creating effective participatory governance, building local and regional capacity for decentralized development, mobilising support of socially responsible business for co-funding of small initiatives of communities supported by UNDP Projects and local/state budgets etc.
Anatoliy Blyznyuk noted the activeness and efficiency of local communities which got organized and completed their 51 micro-projects aimed at improving living conditions earlier than communities from other oblasts. Taking into account the apparent benefit of CBA approach for all local partners, dissemination of its positive experience is currently on top of the agenda.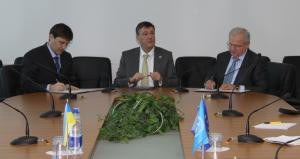 Olivier Adam highly estimated the efficiency of cooperation with Donetska oblast, and appreciated considerable support provided by all executive and elected authorities for empowerment and development of local communities. UN Resident representative also expressed his hope that the second phase of CBA Project would provide the opportunity for realization of numerous creative initiatives of local communities.
Financed by EU and co-financed and implemented by UNDP, CBA Project is aimed at creating conditions for long-term sustainable social and economic development at local level through strengthening of local governance and at supporting community initiatives in all oblasts of Ukraine. To achieve this goal, the Project uses the method of social mobilization of local communities, establishment of their efficient partnership with the state executive and elected bodies, NGOs, and private sector, in order to practice joint decision-making and pooling of resources so as to allow sustainable local development.
CBA Project was launched in Donetska oblast on 18 December 2008. Since then, 40 rural communities got self-organized and created community organizations. In cooperation with CBA Project and local authorities, they work to improvement of their living conditions through complex renovation, effective operation and systemic management of basic infrastructure facilities. In Donetska oblast, local communities have implemented 51 community micro-projects. Total cost of all MPs is UAH 7.4 million: of which CBA contribution is UAH 3.5 million, village / city councils – over UAH 3 million, rayon budget – UAH 407 000, private sector – UAH 40 000, and local communities – UAH 405 000.