On 31 May in Brussels, Ukraine and the European Commission signed an agreement on the financing of the project "Community Based Approach on Local Development, Phase II." The agreement was signed by the First Deputy-Prime Minister, Minister of Economic Development and Trade of Ukraine, Andrei Klyuyev, and European Commissioner for the expansion of the European Neighborhood Policy, Stefan Fule.
During the briefing after the document was signed, the European Commissioner, in particular, noted that good governance is not only a matter of reforms on the national level, but also relies on involving people in governance and being consistent with the citizen's opinions.
In turn, A. Klyuyev noted that within the framework of the agreement, local authorities will provide project proposals for the funding to specially created committees, which will then choose the best from amongst them. The First Deputy-Prime Minister noted that already, even within the realization of the first phase of the CBA project, several interesting projects were offered, especially in energy conservation and energy efficiency, and in the sphere of housing and communal services.
Furthermore, A. Klyuyev noted that projects may be proposed to solve other problems of local government, such as improving water supply and sewage systems, and the cleaning up of territories.
http://www.unian.net/ukr/news/news-438709.html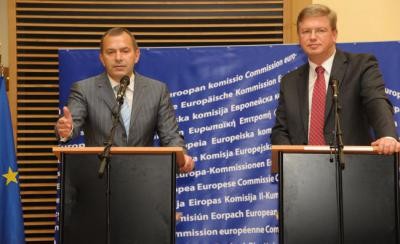 Photo: European Commission
An audio recording of the signing and the press briefing can be found at: http://ec.europa.eu/avservices/ebs/schedule.cfm?page=1&date=05/31/2011