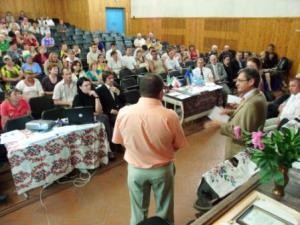 On 27 May, the delegation of the countries of the EU ambassadors, led by head of the EU delegation to Ukraine, Jose Manuel Pinto Teishera, visited a pilot community of the Project "Community Based Approach to Local Development" s.Pobivanka Sumy Region.
The local community warmly welcomed the guests with traditional hospitality and shared stories of their own experiences with self-organization and successful steps to improve living conditions. Chairman of the community organization explained that the path to overcome the distrust of residents towards the effectiveness of the organization for the current situation was challenging. However, eventually the residents voted in favor of the establishment of the community organization, and it now compromises of nearly 100% of the households. The community jointly tried to identify the main issues in the area, and came to agree that the main problem was the water supply. The problem was resolved through two micro projects with the assistance of the CBA Project; the total cost was 452 052 hrn. As a result, water towers and wells were renovated and 4.7 km central water supply system was laid out. Due to this the villagers have access to clean drinking water that meets healthy standards. The guests also had an opportunity to visit local households and taste the water from the new water supply.
Head of the EU delegation to Ukraine, Jose Manuel Pinto Teishera, thanked the community for the warm welcome and amazing work to improve their own standard of living. According to the ambassador of the EU, it was especially striking that most of the residents of Pobivanka grew up and lived in Soviet times, when the government took decisions for the community, and public action was punished. Nevertheless, they were able to change their outlook, take responsibility for the betterment of their community, and because of this reach such success. In the opinion of the EU ambassadors, the community deserves an especially high rating for their principles of transparency, accountability, and the democratic model of decision making in the community.