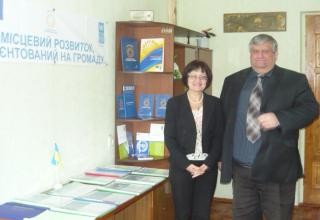 To facilitate the implementation of CBA Project at local level and to multiply its effect and provide ground for sustainability of its results, the partner rayon authorities establish rayon community resource centres (RCRC). To make these centres functional, they also provide necessary logistic and depute staff to coordinate its activities. These rayon community resource centres prove to be very instrumental in reaching objectives and partnership with CBA Project. Thus, in Cherkaska oblast CRCs have been established in all 8 pilot rayons.
Following instructions of the head of Oblast State Administration Mr. Haman and head of Oblast Council Mr. Hres, in February – March 2010 a series of monitoring visits to rayon community resource centers was carried out by CBA community development specialists and CBA focal person from Cherkaska Oblast State Administration, External Affairs and European Integration Department.
Rayon authorities were informed about the following minimum requirements for functioning of rayon community recourse centres:
competent officer from RSA/ RC assigned to be RCRC coordinator;
office premises for RCRC;
information board displaying necessary documents;
documentation on activities of CBA Project in selected communities (separate folders containing community projects, village council decisions, photos showing results of the Project implementation, analytical, information materials, guidelines, etc.)
media materials related to CBA activities in rayon.
documents of Local Development Forums created according to the decree of the head of RSA (regulations, composition, minutes of the meetings).
manuals for community organizations.
Activities of RCRCs in Cherkaska oblast were estimated according to the above mentioned criteria. Community resource centres of Shpolyansky rayon (coordinated by Ms Kateryna Dudnyk) and of Zvenyhorodsky rayon (coordinated by Ms Lyudmyla Strashna) were recognized as exemplary. RCRCs of Umansky rayon (coordinator Mr Ihor Domansky) was occupied the third place.
During the monitoring visits, recommendations were given to coordinators of RCRC as to ways of improvement of their work, especially in visual presentation of the results achieved by the centres. CBA focal point from Cherkaska OSA Mrs.Kulyk emphasized to rayon leaders to the importance of proper functioning of community resource centers that would help to preserve the results achieved in joint activities with CBA and local communities, and ensure further sustainable local development.
Results of RCRC monitoring were presented on 3 March 2010 at 4th meeting of Cherkaska Oblast Coordination Council. Best performers were recognized, and role of resource centres for local development was emphasized.
Ms Lyudmyla Strashna, coordinator of Zvenyhorodsky community resource centre mentioned that it was her participation in study visits organized by CBA that helped her to understand the role and functioning of a resource centre and organize its activities so that it provides real support to community organizations in their effort to attract additional investments and work on local development. Thus, trainings and consulting are regularly provided to community members, village council heads and CO leaders on how to prepare technical documentation and cost estimate; on ways to look for cooperation with donors. Thanks to the Centre's activities local communities established cooperation with Japanese Embassy in Ukraine, EU Project "Implementation of Ukraine's Commitments under WTO and ENP Frameworks in the Rural Sector (Sector-Wide Approach)". Ms. Strashna characterized her work as RCRC's coordinator as both useful and interesting.
The coordinators of the best performing rayon community resource centers were presented special letters of recommendation and a set of materials was distributed to them with best practices of Sarnensky RCRC of Rivnenska oblast.