The History of Project Implementation in the Region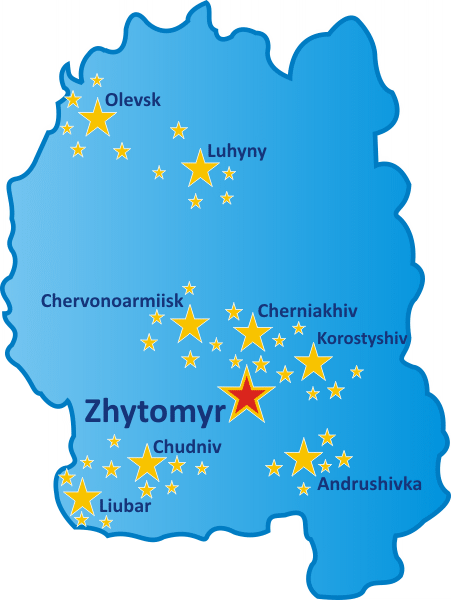 On 26 March 2008 in the assembly hall of the Zhytomyr Regional State Administration a workshop presentation of the Project "Community Based Approach to Local Development" was held, and was attended by more than one hundred representatives from all regions. The management area was presented by Deputy Head of State Administration Igor Orlov. Vladimir Sheyhusom, specialist in Community Development, held a presentation of the CBA for all of the participants of the seminar. At the end of the seminar, a partnership agreement was signed between the Zhytomyr Regional Administration and the Project.
All 23 rayons of the region applied for participation in the project. These applications were carefully examined and categorized. On 19 May 2008, a commission for the selection of rayons, compromising representatives of the Zhytomyr Regional Administration and the CBA project selected rayons from the region to participate in the project based on the ratings that were submitted. The Commission decided that the rayons chosen from the Zhytomyr region for participation in the CBA project are: Andrushevsky, Korostishevskaya, Luhyny, Lyubarsky, Olevskii, Chervonoarmiis'kyi, Chernyakhovsky and Chudnovsky rayons. The result of the selection was fixed in the final protocol.
For a successful implementation of the project, CBA specialists of the Regional Units of the Zhytomyr Region guidance of the Reguinal State Administration were given temporary premises for a office.
Key Statistics

| | |
| --- | --- |
| Quantity of Pilot Rayons | 8 |
| Quantity of Local Councils | 40 |
| Quantity of Pilot Communities | 40 |
| Quantity of Members of the Community Organization | 1713 |
| Quantity of Micro Projects | 46 |
| Total Quantity of Beneficiaries | 31815 |

Co-Financing

| | |
| --- | --- |
| Total Sum of Initiatives | 6120385 |
| CBA project | 3002749 |
| Oblast Budget | 394120 |
| Rayons Budget | 152569 |
| Village Budget | 860196 |
| Total Community Contribution | 337628 |

 

Types of Micro-projects

| | |
| --- | --- |
| Energy Saving | 17 |
| Water Supply | 3 |
| Healthcare | 26 |