During the first meeting of CBA Project Steering Committee the participants discussed the Project`s results over its first year of implementation and outlined the future plans. In this context, the participants also focused on possible mechanisms of main stakeholders' engagement into the process of CBA activities.
Members of Steering Committee received report from Project team and noted the outstanding results achieved by Project team within a year's time.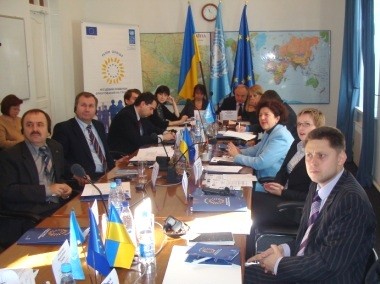 The representatives of Project Management Unit presented achievements of Project activities, including launching of Project activities in 24 out of 25 regions and establishment of partnership with 21 Regions. All the way through the selection of 177 (out of 200) pilot districts, and selection of 668 (out of 1000) village/city councils, the Project reached community level and initiated formation of 97 community organizations.
The Project Manager Jaysingh Sah described main challenges that CBA encountered when establishing partnership with oblast and rayon level authorities.
In response, representatives of key governmental institutions came up with several propositions on coordination of efforts as regards implementation of initiatives on local development in general and support for CBA Project realization in particular.
The meeting`s participants included Joanna Kazana-Wisniowiecka, UNDP Deputy Resident Representative, Laura Garagnani, Head of Operations of Delegation of the European Commission to Ukraine, as well as representatives of key national stakeholders: Volodymyr Yatsiuk, Head of Department of Regional Policy, Secretariat of the Cabinet of Ministers of Ukraine, and Vyacheslav Nehoda, Deputy Minister of Regional Development and Construction.
"We jointly work for the people of Ukraine, and we feel the responsibility that people's trust is laying on us. One of the most challenging tasks is to create the atmosphere of trust and constant cooperation between communities and local governments, but this is exactly what we expect the CBA Project to perform", commented Laura Garagnani.
Speaking of the Project, Joanna Kazana-Wisniowiecka pointed out: "So far, there are few such exciting projects. It is extremely rewarding and personally enriching to see that every hryvnya spent for community project is an investment that brings about the effect which is many times more important for the improvement of living quality and overall development of local communities".
Steering Committee meeting was also attended by representatives of the Ministry of Economy, Ministry of Housing and Communal Services, Ministry of Agricultural Policy, Ministry of Transport and Communication, Foundation of Local Self-Governance of Ukraine, Association of Cities and Communities of Ukraine, Association of Village and City Councils of Ukraine. Members of Steering Committee noted the importance of such meetings for better coordination of different agencies' activities on supporting local development and strengthening local governance which are being implemented by different agencies and supported by the Ukrainian Government.
For further information, please call Ganna Yatsyuk, CBA Project Communications Specialist, at tel./fax: (+380 44) 502 1197, E-mail: ganna.yatsyuk@undp.org.ua.