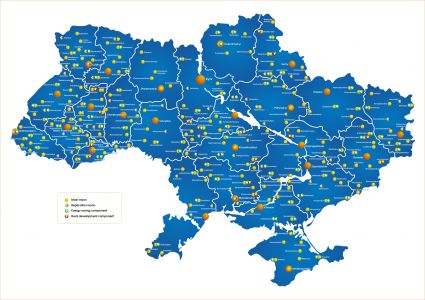 The II phase of the Community Based Approach to Local Development Project (CBA) launched its activities on 07 June 2011. The Project is funded by the European Union and is co-financed and implemented by the United Nations Development Programme in Ukraine.
Ukraine and the European Commission have signed an Agreement on the financing of the Project on 31 May 2011 in Brussels. The Agreement was signed by First Deputy Prime Minister - Minister of Economic Development and Trade of Ukraine Andriy Kliuyev and the European Commissioner for Enlargement and European Neighbourhood Policy Štefan Füle. Watch the video from signing of Financing Agreement
The total budget of the second phase of the Project's is €17,1 million with 98.4% contribution from EU and 1,6% cost sharing from UNDP, which will be used to support sustainable socio-economic local development.
Duration: 03.09.2007 – 05.06.2011 (phase – I); 06.06.2011 - 30.06.2015 (phase – II).
Project document: full text
WHAT IS THE SITUATION?
Authorities and communities in Ukraine lack the capacity to jointly plan, budget and implement local development strategies. Such limited capacities create a scenario where local development priorities attract insufficient focus and resources; poverty level remains high, local living conditions continue to deteriorate and negative social trends often remain unaddressed.
First phase of CBA succeeded in scaling up the community led approach to local development countrywide. It contributed to strengthening participatory governance, supported and developed local capacities for community-based development, and facilitated a collaborative relationship between communities and local authorities. While some progress has been achieved to improve transparency, accountability and quality of public services, there remained room for further improvement and dissemination of the approach. The second phase of CBA Project was conceived to upscale the approach and disseminate the knowledge and best practices on community based development.
WHAT IS OUR MISSION?
CBA Project aims at increasing self-consciousness and creating self-sustainability of communities by promoting dialogue among its members, facilitating social activity, shaping a collectively shared vision of the future and implementing joint initiatives on community development.
OUR OBJECTIVE
The overall objective of CBA-II Project is to promote sustainable socio-economic development at local level by strengthening participatory governance and encouraging community-based initiatives throughout Ukraine.
Specific objectives of the Project are to:
promote community based approach to local governanceand sustainable development;
enhance energy efficiency at local level;
support the creation of the locally owned and managed repository and network of good practices and knowledge on community mobilization and participatory governance;
HOW ARE WE ACHIEVING OUR GOALS?
In order to build the capacity of the local communities and authorities for participation in the joint decision making process and ensure local ownership of the process, the bottom-up mechanism is established involving stakeholders from grassroots (community), meso (rayon and regional) and macro level (national) in the process as it moves upward. CBA implementation process involves a series of activities and action points that ultimately yields results intended by the Project.
A multi-level partnership is built involving selected rayons, village/city councils and local communities form the functional area of the Project. Their selection is done through open competition based on the criteria of socio-economic hardship, especially in the area of health, education, water supply, energy supply and environmental situation. Through the selection process, CBA reaches the most suffering areas/population of the region/rayon.
Local level activities of CBA are carried out under the framework of partnership with the stakeholders. It is based on willingness and commitment of the partners (communities, village/city councils, rayon authorities, regional authorities, academia, associations of local self-governments, private sector) for cost sharing and joint decision-making.
The project uses social mobilization tool to mobilise stakeholders and create environment (support structures) for joint decision-making and joint implementation. Community organisation (CO) is formed by representation of 80% or more households on the selected community to reflect common community vision and implementation of community priorities; local development forum (LDF) is developed at rayon level for joint decision-making, resource mobilisation, local coordination, regional coordination council (RCC) is developed at regional (oblast/ARC) level to monitor CBA activities in the region, to resolve issues related with local policies/procedures, to support programming and resource mobilisation. At national level there is a steering committee to ensure national level coordination and advisory support.
Capacity of the COs is built in such a way that they are able to make joint decision with local authorities, mobilize resources, implement local priorities and sustain the result. Capacity of the partners (VC/CC, rayon/oblast etc.) is strengthened in terms of human resources to implement participatory approach propagated by the Project. Training, exposure visits, dialogues and small grants (for community projects), appropriate institutional mechanisms etc. are used as tools for building capacity.
CBA-II supports pilot rural communities in solving the most pressing local development problems by implementing community initiatives (micro-projects) within major project priority:
Health (refurbishing of local health posts);
Environment (rehabilitation/creation of waste disposal, sewage & drainage system etc.);
Energy (energy saving, energy efficiency, alternative energy sources);
Water supply;
Local economic development (cooperative development, small business promotion)
Knowledge and experience acquired in course of implementation will be gathered, analysed and disseminated through a Knowledge Hub in cooperation with academia and association of local self-government bodies.
RESULTS AND ACHIEVEMENTS:
Brief results of CBA-II as of December 2012 are presented hereunder.
Establishing Partnership (Target: 25 regions, 200 rayons, 900 village/city councils)
Partnershiphas been established with all 24 oblast authorities and the Crimean Government; 200 rayon authorities and 832 village/city councils of Ukraine. CBA-II succeeded in bringing administrations and councils together in most of the cases through tripartite partnership. Partners were selected through well-defined procedures involving competition.
Community Mobilization (Target: 900 community organizations)
Through competition, 835 communities were selected jointly with local and regional partners for local action. The project carried out community mobilization in the selected communities. As a result, 836 community organizations (COs) were formed in participation of 423,000 men and women from 284,000 households (out of 345,000 target households). Among the members 57% were female.
Support structure Development (Target: 200 LDFs, 223 resource centres and 25 RCCs)
To facilitate the process of bottom-up planning process and participatory decision-making at rayon and regional level, 200 Local Development Forums (LDFs) and 25 Regional Coordination Councils (RCCs) were formed or continued from CBA-I. To support citizens-authorities cooperation, 199 rayon level community resource centres and 23 regional community resource centres were respectively created/grafted and strengthened.
Capacity Building (Target: 6,000 community members and 2000 state/elected officials trained)
Human resource development is a key element of CBA Project. In a bid to enhance skill of human resources involved in CBA-II implementation, 1276 training/exposure visits/roundtables were held and 7,313 CO-executives and 2,323 state/elected officials were trained. The training includes such aspects as implementing CBA methodology, CO-management, financial management, participatory planning, micro-project implementation, public audit, sustainability etc.
Micro-project Support (Target: 600 community projects)
830 COs prepared community development plan through bottom-up planning process. 810 of community priorities were mainstreamed into local government planning. 779 micro-projects were approved by CBA Project for funding. 77.8% of them were related with energy saving/efficiency, 10.8% public health, 10.7% water supply and environment 0.7%. Total cost of the projects was UAH 136.5 million shared by community (7.4%), local authorities (48%), CBA (42.3%) and private sponsors (2.3%).
From these micro-projects, 891,000 persons are expected to receive direct/indirect benefit including 88 hospitals and 519 schools/kindergartens.
Methodology Replication (Target: 60 rayons. Information in this section is exclusive to previous sections)
Replication of CBA methodology was introduced in 21 regions based on willingness and commitment of regional authorities. Partnership was established with 61 rayons and 229 village councils. 224 communities were selected for local action. Community mobilisation was carried out in the selected communities. As a result, 171 COs were formed/grafted with participation of 43`826 men and women from 35`595 households.
47 rayons authorities formed/continued LDF to ensure joint decision making and bottom-up planning process. 49 rayons established rayon community resource centers to facilitate community based approach to local development. 195 trainings were conducted for 930 executives of COs and 327 representatives of local authorities in procedures of implementing methodology replication. In methodology replication, local partners are expected to take active/leadership role in implementation and share major part of micro-project cost.
122 COs developed community development plan, of which 102 were mainstreamed in local government plan. A total of 52 micro-projects were supported. Of them 84.6% was related with energy saving, 11.6% with health and 3.4% with environment. Total cost (UAH 5 million) was shared by community (7.8%), local authorities (70%), CBA (19%) and remaining came from private sponsors. Through replication 43,949 persons will benefit including 8 hospitals and 34 schools/kindergartens.
Rural Economic Development (Target: 17 cooperatives)
CBA-II aims to raise income and employment opportunities of the rural poor through development of cooperatives and improvement in local skills and economic environment. To this end, 15 communities were selected from 15 rayons belonging to 8 regions (Mykolaiv, Cherkasy, Kirovohrad, Sumy, Ternopil, Donetsk, Dnipropetrovsk, Chernivetsi regions) for cooperative development. The selection was based on feasibility and competition. Community members were trained to undertake initial tasks. It is expected that the selected communities will accomplish the task of cooperative development by mid-2013 and then undertake concrete community project activities of economic nature to enhance employment and income opportunities for themselves.
Energy Efficiency Component (Target: 6 advanced piloting regions, 19 standard piloting regions; 300 micro-projects, 6 regional energy strategies)
6 regions were selected for participation in advanced piloting (Dnipropetrovsk, Zaporizhia, Kharkiv, Ivano-Frankivsk, Lviv and Zakarpattia regions) and partnership was established for it. Other 19 regions came into partnership for normal energy piloting. Launching of energy efficiency component was held in 25 regions. Quota of rayons per regions was set as follows: 81 rayons were selected for advanced and normal piloting.
Task of updating regional energy efficiency strategy was initiated in 3 regions. It is expected that by mid-2013, this task will be accomplished in all 6 regions. 29 ideas of micro-project proposals were approved. It is expected that all 300 micro-projects will be approved in 2013 while the implementation will continue until 2014.
Knowledge Management (Target: curriculum in 10 universities, 1 knowledge hub functioning)
Knowledge management hub – A knowledge management hub was established under umbrella of the Ukrainian Association of District and Regional Councils (UADRC). Necessary logistics and equipment were set up and human resources were put in place with due training. Web portal for the hub was developed and tested. The first round of users from the regions (mostly rayon focal persons and CBA staffs in the regions) a training was organized where they learned how to use the hub and contribute to it. The hub will be further improved and the size of its users/contributors will be further expanded during 2013 so that it could reach full fledge function. The portal is in process of construction and can be viewed at http://rozvytok.in.ua

Curriculum development – Partnership was established with 20 universities for cooperation on (a) teaching course on sustainable development; and (b) students' internship, small research, seminar and publication on CBA related themes. Upon training and a workshop support, 13 universities initiated teaching a separate course or module on sustainable development of society in their universities. Community based approach form a part of this course. CBA supported publication of the course book. Small support was provided to Sumy University for conducting social survey on effectiveness of social mobilisation approach in Ukrainian context. Also, 43 students from 11 universities participated in research competition ( http://cba.org.ua/en/news/1404-2012-06-08-15-05-12). Summer school "Sustainable development and community participation" was held in participation of 14 young scientists from five universities of Ukraine. The participants shared their papers, received training on CBA and visited local communities.

Knowledge sharing – On invitation of the European Journalism Centre, Ms. Ganna Yatsyuk, communications and monitoring specialist of CBA, presented CBA Project to the journalists from 15 European countries (including media such as BBC, Gazeta Wyborcza, Czech TV, Fygello, FAZ, etc.) in the seminar "The State of the European Neighbourhood Policy", held in Brussels on 14-16 May 2012. Armenian delegation, including representatives of UNDP Armenia, Ministry of Territorial Administration, Ministry of Labour and Social Affairs, Ministry of Nature Protection and the Deputy Governor made a 5-days visit to Ukraine to learn from CBA experience. They visited regional and local authorities and local communities of Cherkasy and Kirovohrad regions.

Media outreach – A substantial amount of information dissemination on CBA took place by 2012. 448 media events were held; 3,147 cases of media coverage were registered; 182 issues of regional newsletters were published and disseminated and 1,434 publications appeared on partners' websites.

Budget Utilisation: € 9.1 million was utilised (actual spent € 7.6 million + committed €1.5 million) by December 2012. It reflects 53% of the total budget of CBA-II.
Results of CBA-I:
1175 Ukrainian communities from 200 pilot rayons benefited from CBA-I activities in 2007-2011. The project helped to rebuild health centres, to supply street lighting, to provide school buses, to replace windows in schools and hospitals and to ensure the supply of clean water. This has all been done by the organised local community groups under support of local authorities and co-funding from CBA, local budget, private sector and community contributions.
Over 1.2 million people have benefitted from implementation least 1303 sustainable community initiatives worth USD 25 mln. and have improved primary healthcare points, water supply management, environmental protection, energy efficiency and local transport services while empowering local communities. Over 1700 trainings were held to improve organizational abilities of community leaders and local authorities.
The CBA approach methodology contributed to qualitative enhancement of local government, increase in trust towards authorities and establishment of effective cooperation between communities and authorities. United by a common goal of their community development, local residents become an active partner of local authorities and bodies of local self-government and contribute to sustainable local development. Community self-organisation has led to improvement of quality of life of citizens. Community members working on community project realization experience growth of self-reliance.
More results of CBA-I are available at the web site: http://www.cba.org.ua/one/.
Total delivery for a period of 2008 - 2011 (as of 31 December 2011): USD 21'976'944.
WHERE WE WORK:
In the second phase, CBA Project works in all 25 regions of Ukraine, 200 rayons and 900 local councils – all selected though the open competition, based on the criteria of (a) socio-economic hardship; (b) motivation to practice participatory governance.
DONORS AND BUDGET:
CBA-II Project is funded by the European Union and is co-financed and implemented by UNDP, with the support of the Government of Ukraine and in partnership with local executive and elected bodies. Total budget of CBA-II is €17 million with 98.4% contribution from EU and 1.6% cost sharing from UNDP. Project time frame is 4 years (June 2011 – June 2015).
WHO ARE OUR PARTNERS?
At the national level, the project works with line ministries, parliamentary committees, national associations of local councils and other counterparts under overall coordination of the Secretariat of the Cabinet of Ministers of Ukraine.
At the regional level Project cooperates with 24 oblast state administrations and oblast councils (in case of AR Crimea – with ARC Council of Ministers and Verkhovna Rada of AR Crimea).
At the rayon level, CBA partners with 261 rayon state administrations and rayon councils.
At the local level, partnership is established with 1,061 village / city councils.
In framework of cooperation with academic institutions and knowledge management, CBA partners with the National Academy of Public Administration (NAPA); 19 universities from 16 regions (list available at http://cba.org.ua/activities/partners?lang=en) and the Ukrainian Association of District and Regional Councils (UADRC).