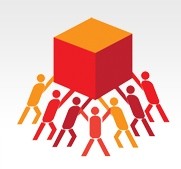 Rural households in Ukraine are faced with lack of employment opportunity and low income basically due to lower actual production than potential capacity, higher input cost and lower return on the outputs. Improved production technology, processing of products, increased bargaining power through large scale purchase of inputs and sale of outputs are some of the solutions. Unfortunately, the rural households, individually, are unable to beat the market forces because of their miniscule size in the local agrarian economy. Experience indicates that the rural households can ameliorate their condition through collective action. Together they can become a major actor in the local economy. For this purpose, they need to learn about these market forces and use them jointly to make these forces in their favour. Under its 'rural economic development (RED)' component, CBA-II tries to address these issues.
Objective of CBA Project is to promote small businesses in rural area with a purpose to raise employment and income opportunities. To this end, it aims enhance capacity of rural low-income households by enabling them to get organised into agricultural service cooperative, generate capital, learn skill and carry out a series of production, processing, marketing and service related activities.
To achieve its objective, CBA Project has initiated piloting its model of cooperation in the framework of rural economic development component of CBA-II. Detail of CBA/RED methodology is given in its manual Rural Economic Development of Ukrainian. Manual on implementation of the RED component.
Piloting is taking place in 15 locations of 8 oblasts namely Chernivetska, Ternopilska, Mykolaivska, Cherkaska, Kirovogradska, Sumska, Donetska, and Dnipropetrovska. CBA support includes training and advisory, institutional capacity building and micro-grant based on cost sharing with cooperatives and local/regional authorities. Total budget under RED component is $554 000. Experience of the pilot will be documented for further use. Regionwise details of the RED activity can be viewed and aggregated version of the status of the RED component are presented in the Project reports.
Reports on the Rural Economic Development Component

Approach to Local Development Project Rural Development Component: Developing Agricultural Service Cooperatives - Draft Assessment Report
Training video of the Rural Economic Development component "Prosperity Through Cooperation"
| | | |
| --- | --- | --- |
| | | |
| Part 1. Economic conditions of rural territories | Part 2. Crimean experience of cooperation | Part 3. Proposal for collaboration with the CBA Project |
MANUALS AND PUBLICATIONS OF THE RURAL ECONOMIC DEVELOPMENT COMPONENT