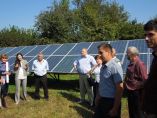 On 9 September 2014 in Kosivsky rayon Ivano-Frankivsk oblast an exposure seminar took place regarding usage of renewable energy sources. In terms of the training representatives of local authorities, community organisations and local media saw on practice how energy efficient technologies work in objects of social infrastructure.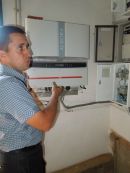 Participants visited a kindergarten "Sonechko" which at the end of August 2014 installed solar electric station with a power of 9,6 kW. Now thanks to a mini-SPS needs of the kindergarten in energy are satisfied, and, under the certain weather, - of other state-funded organisation of this village. The first deputy head of rayon state administration Vasyl Ropar welcomed seminar participants and emphasized on the importance of such events.
During the training heads of community organisations "Dbailyvy Hospodar" (village Rozhniv), "Dobrob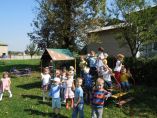 ut Tiudova" (village Tiudiv), "Hutsulska Fundatsia" (village Yavoriv) shared their own experience of implementing energy efficient microprojects in their own communities.
Besides discussions of the benefits of green energy, also were discussed the possibilities and perspectives of implementing energy efficient microprojects. Thus community organisations in close cooperation with local authorities and CBA Project continue raising public awareness regarding innovative energy efficient technologies.In total under the EU/UNDP Project's support 130 events of this kind were held.