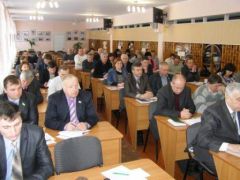 On 18 and 23 January 2013 experts from Sumy National Agrarian University conducted seminars on creating of agricultural cooperatives in Sumy region. Participants were representatives of local authorities and interested community members.
During the workshop, participants were able to get information on state and local programs on support the creation and operation of Rural Cooperatives. In particular, the deputy head of Sumy Regional Council informed the audience that for these purposes the regional budget provided 2.3 million USD. Funds will be provided in the form of repayable financial assistance.
Also, participants of the workshop received a short presentation made ​​by Olexander Takul, community development officer from CBA. He informed that the project was exploring the possibility of financial and methodological support for the establishment of agricultural service cooperatives in Ukraine. So far, according to the methodology of the Project two rural communities in Sumy region cooperate with the Project in this. Unlike the regional program, the Project "Community Based Approach to Local Development - II" will provide financial support on the irrevocable basis. Therefore, the initiative heads of village councils of Sumy region are motivated to promote and provide information in their communities.