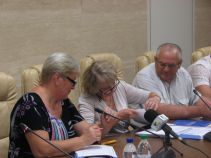 In Zaporizka oblast a competitive selection of managing organisation for energy efficient equipment procured under CBA-II was conducted. Selection process of the contractor was trusted to a community organisation "Dzherelo" which has experience of holding tenders in terms of CBA Project.
According to the tender results CO "Dzerelo" selected LLC "LuksInvestProekt". This organisation will do energy audit of state-financed organisation in social sphere in Zaporizka oblast. Such measures will foster oblast energy efficiency.
Selection of the contractor was done with accordance to all EU and UNDP procedures and showed high level of maturity of community organisations in Zaporizka oblast. "Community organisation "Dzherelo" was selected to hold this tender as one of the most experienced. This community has 4 certificates confirming its cooperation with the Project. We are certain about commitment and sense of purpose of these people", says Oleksandr Ryabyi.
In 2012 Zaporizka oblast was selected for special piloting in energy efficient component. Under CBA-II Project support Zaporizka oblast procured mobile laboratory for energy audit.