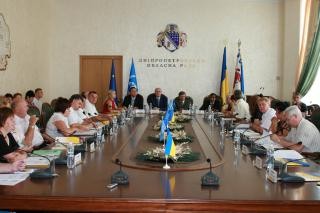 On 11 August 2010, the third sitting of Dnipropetrovsk Regional Coordination Council gathered the representatives of regional, rayon councils and local communities to review the results of two-years' cooperation on empowerment of local communities and improvement of living conditions in rural areas, implemented within the framework of EU/UNDP Community Based Approach to Local Development Project (CBA).
UN Resident Coordinator Olivier ADAM attended the meeting of Dnipropetrovsk Regional Coordination Council to interact with all levels of stakeholders and discuss the vision of future extension of Projects' activities.
Meeting was chaired by head of regional council Yevhen UDOD, participants were also the heads of 8 pilot district councils, heads of the key departments from regional council and the media. Representatives of all 14 non-pilot district councils were also invited to participate in the meeting with a vision of their involvement in the 2nd phase of CBA Project.

Olivier Adam welcomed the enthusiastic and dynamic attitude of the newly-appointed regional leaders and praised the outstanding support of authorities to sustainable local development. Of particular value is the regional programme of support to community initiatives, through which UAH 1.8 mln was channeled in 2009 to co-fund community projects. In 2010, UAH 820'000 was already released, UAH 1 mln. is still expected. Mr. Adam also suggested continuing the dialogue with Dnipropetrovsk leadership so as to extend partnership beyond CBA, to widen the scope and areas of joint action, involving other UN agencies in cooperation with the region.

Head of regional council reiterated the value of CBA activities and stressed that the primary importance of initiative consists in community empowerment rather than financial aid to renew infrastructure. Yevhen UDOD confirmed the commitment of regional council to release the final tranche of UAH 1 mln. from regional funds to co-finance communities' projects.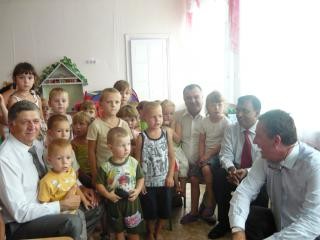 Heads of district councils informed about the status of micro-projects' implementation in their districts: of 56 micro-projects, 24 are completed, others are to be finalized by the end of October-November 2010.
After the meeting, Olivier Adam visited Community Resource Centre of Palvograd district, established at the initiative of district council. The resource centre provides information, technical and expert support to local communities willing to implement development initiatives. In May 2010, the Centre won in the national competition of District Community Resource Centres, attaining the opportunity to purchase USD 1000 worth equipment.
UN Resident Coordinator also visited community organization "Dobrobut" of Pryvovchanka village, where local citizen got organized and implemented the project on energy saving in kindergarten. Community is now realizing the second initiative on replacing windows in local school.
The Project was launched in Dnipropetrovsk region in August 2008. Since then, 43 self-governed community organization were formed by rural communities to improve their living in partnership with local authorities and the CBA Project through complex renovation, effective use, and systemic management of local facilities. 56 community micro-projects are being implemented. Total cost of these MPs is more than UAH 9 million, with about UAH 4 million allocated by the CBA Project, about UAH 4.8 million – by local budget, UAH 70,000 – by private sector and UAH 1 mln – by local communities.
For further information about the state of the Project implementation please contact:
In Dnipropetrovsk: Olena Kharchenko and Svitlana Shatova, Dnipropetrovsk OCRC coordinators. Tel. (050) 417 7485; (050) 447 4354. E-mail: svitlana.shatova@undp.org.ua and olena.kharchenko@undp.org.ua.

Contact person in CBA Project central office: Ganna Yatsyuk, CBA Project Communications Specialist at tel./fax: (+380 44) 280 36 18, 280 43 58; E-mail: ganna.yatsyuk@undp.org