PROJECT NEWS
У Запоріжжі офіційно відкрили науковий ресурсний центр зі сталого розвитку та презентували монографію
У Запоріжжі в рамках співпраці з Проектом ЄС / ПРООН «Місцевий розвиток, орієнтований на громаду» (МРГ) на базі факультету соціології та управління Запорізького національного університету офіційно відкрили науковий ресурсний центр зі сталого розвитку.
Read more...
Starting from the 15th of December in National University "Lvivska Politechnika" a training for exploitation of energy audit equipment will be held for experts. This training is aimed to prepare specialists to work with the equipment of mobile laboratory which was procured with a support of CBA Project. Under a contest based selection 13 specialists were selected for training. After completion of the training several of them will be recommended to work as energy auditors in communal enterprise Technical Inventory Bureau of Oblast council.
Lvivska oblast, along with other 5 oblasts (Dnipropetrivska, Ivano-Frankivska, Kharkivska, Zakarpatska and Zaporizka), was selected for advanced energy efficiency piloting in 2012. In terms of special piloting of Energy Efficient component a mobile laboratory for energy audit was procured. Thanks to this energy audit and energy passports will be done for object of social infrastructure.
Implementation of the first phase of CBA Project commenced in Lviv region during March 2008. First phase was succeeded by a second phase in July 2011. Over these two phases, about 94000 men, women and children of the region have benefitted from improvement in 83 schools/kindergartens, 17 healthposts, 5 water supply, 2 environment, 11 street-lightning and so on. This happened through joint effort of the citizens, oblast/rayon/local level governments, CBA Project and the private sponsors.
Taking this opportunity, joint EU/UNDP-CBA Project would like to congratulate all representatives of oblast authorities and local authorities, community organisations and community members on the eve of "Local Self-government Day- 2014" which signifies the vision of all those who dedicated themselves to the noble cause of nurturing democratic values in Ukrainian societies.
Day of Local Self-government is our common professional holiday, a holiday of all those who promote sustainable local development at all levels through 'public private partnership' ideals whereby 'people' are placed in the centre of local development. Deeply rooted in Ukrainian history, the tradition of local self-governance is now evolving along rich democratic foundations. We believe that our joint efforts to promote participatory governance through establishment of self-governing local communities and involving people in decision-making process provides strong ground for improved cooperation between communities and local governments.
Implementation of our joint initiatives in your oblasts will be an example for all Ukrainian community. We wish you and all self-government representatives in oblasts higher level of professionalism, inspiration and achievements in the development of local government in Ukraine. Let our cooperation continue to enhance efficiency of local governments and capacity of local communities.
On November 26 a launching seminar for three Chernihiv rayons – Semenivsky, Sosnytsky and Nizhensky – took place in Oblast Council. These rayons were selected for piloting in CBA Project with accordance to a Ukrainina Law "About cooperation of territorial communities". Piloting will be implemented under Council of Europe and Ministry of regional development support.
Among distinguished attendees of the seminar were Deputy head of Chernihiv oblast council Valentyn Melnychuk, Senior programme manager of UNDP in Ukraine Oksana Remiga, CBA International project manager Jaysingh Sah, CBA Community development specialist Olena Ruditch, representatives of local self-governance of these rayons.
Read more...
Third phase of Joint EU/UNDP Project "Community Based Approach" (CBA) was successfully launched in all oblasts of Ukraine. During September-November 2014 more than 2000 of representatives of oblasts and local authorities, civil societies, private sector and media to discuss cooperation for promoting community-led local sustainable development further to improve the living conditions of people in Ukraine. The participants of the events discussed further perspectives of cooperation for sustainable local development. Donetsk oblast was the last where the Third phase CBA Project was launched on regional level.
During the launching of the Third phase of the CBA Project trilateral Partnership Agreements were signed between the leadership of oblast state administrations, oblast councils and UNDP and the competitive selection of rayons for participation in the Project was announced. Currently the selection process was finished in 15 oblasts. Information about the results of competitions can be found here.
During regional seminar an Action Plan for Project implementation in oblasts was introduced. Third phase of the Project will support local authorities in dissemination of best practices and experience in participatory planning and further dissemination of the community based approach. The Project activities will focus on rehabilitation of social and communal infrastructure in the area of energy efficiency, health care, environment, water supply, rural economy. The Project will support Ukrainian Government in implementation of decentralization reforms and in dissemination of innovative approaches for participatory planning and for promotion of sustainable social economic development on local level through the knowledge management hub and through implementation of the appropriate courses into curriculum of 20 universities.
Read more...
Go to Project News section...
CBA PROJECT IN THE REGIONS
У Тернополі відбувся запис телепрограми «Європа очима українців» про основні досягнення та подальші перспективи впровадження Проекту ЄС/ПРООН «Місцевий розвиток, орієнтований на громаду»(МРГ) в області. Завдяки передачі глядачі Тернопільської обласної державної телекомпанії дізнаються про основні результати впровадження другої фази Проекту МРГ на Тернопільщині, а також про початок Третьої фази Проекту.
Раніше процес реалізації Проекту широко висвітлювався в різних інформаційних та тематичних програмах обласного телебачення області, під час прямих ефірів, інтерактивного спілкування тощо.
In Zaporizka oblast a refurbished kindergarten in village Blagovischenka Kuibyshivsky rayon was formaly opened. Under the CBA Project support hot water supply system which use solar power was installed, old windows and doors were replaced and partially heat insulation of frontage was done. Thanks to these complex measures premises of the kindergarten willstay warm in inter. Besides, usage of solar energy will do savings to local budget. To implement this initiative community members gathered more than UAH 25 ths., and Project provided more than UAH 229 ths. More than 1000 community members benefited from microproject implementation.
For Blagovischenka it was the second implemented microproject. Community was selected for implementation of additional quota issued by the Project in 2014 to implement energy efficient initiatives. In total in Zaporizka oblast 9 rayons participate in regular component of CBA, and 3 rayons in replication component. Out of them 4 rayons additionally are piloting in energy efficient component, also out of them 5 rayons were selectedfor implementation of additional quota. Overall, in oblast the Project demonstrated a close cooperє
ation of communities with local authorities on village, rayon and oblast level. More information in a video
Go to CBA Project in regions section...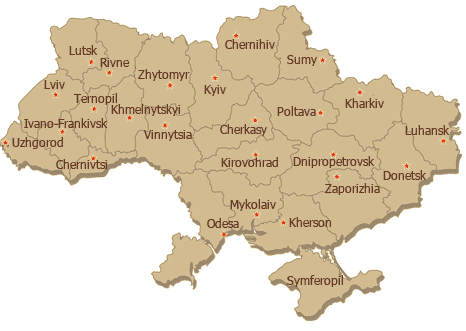 ABOUT CBA PROJECT
The II phase of the Community Based Approach to Local Development Project (CBA) launched its activities on 7 June 2011. The Project is funded by the European Union and is co-financed and implemented by UNDP Ukraine. The total budget of the second phase of the Project's is €17,1 million with 98.4% contribution from EU and 1,6% cost sharing from UNDP, which will be used to support sustainable socio-economic local development. More...
Video