PROJECT NEWS
Today because of hard situation in the East of Ukraine, more and more people need normal living conditions and warmness in their houses. Children, aged and disabled people are forced to survive winter coldness without even basic medicine and blankets.
In Kharkivska oblast, joint EU/UNDP Project 'Community Based Approach to Local Development' (CBA) together with local authorities and communities do the best to accommodate internally displaced persons (IDPs) in as much as possible comfortable conditions.
In Kharkiv region, EU/UNDP Project implements two micro-projects on providing favorable conditions for dense living of IDPs. One project is realized in school premises in Balakliya (Balaklijskyi rayon); another one is in Khorosheve (Kharkivskyi rayon).
In both of these premises capital repair and repair of inside rooms has already started: old doors are replaced with the new ones, corridors and toilets will be equipped. For disabled people, special handle rails will be installed in the corridors, elevator sides, and assembly halls. Special entrance ramps are planned to be installed on the passages.
Mr. Neal Walker, UN Resident Coordinator and UNDP Resident Representative in Ukraine visited Balakliya. In a secondary school of Balakliya, capital repair is under process. At this time, windows are replaced with the new ones, solid fuel cooper is installed; some parts of floor are painted. Several inside rooms are equipped with furniture and repair of heating system is almost finished.
During his meeting with IDPs in Balakliya, Mr. Neal Walker highlighted importance of cooperation between donors, local authority and local communities in these hard times. 'Synergy of our joint activities in helping people certainly will lead to positive results. Today, it is expected that more and more people needing our support. Thus, every day we have to do everything we can to solve their problems. Peace – is fundamental', stressed Mr. Walker visiting the school.
Read more...
Because of unsafe situation in conflict zone, a lot of aggrieved internal displaced persons (IDPs) are looking for refuge in neighboring oblasts. Every day number of these people constantly increases. UNDP together with the European Union supports a number of micro projects in the regions that accept IDPs from the East to help them.
Joint EU/UNDP Project 'Community Based Approach to Local Development' (CBA) together with local authorities and community organizations create all necessary conditions to support the most needy IDPs: mothers with children, people of old age and disabled people. In Dnipropetrovska, Kharkivska, Poltavska, Zaporizka, Odeska, Donetska and Luhanska oblasts CBA Project supports two micro projects in each with total cost more than 12 mln UAH.
In Donetska oblast the EU/UNDP Project 'Community Based Approach to Local Development' implements two micro projects to create favorable living conditions for IDPs: one in Kramatorsk (Donbass inter regional center of professional rehabilitation of disabled people) and in Slovjansk (premises of 'Slovjansk' recreation center).
Today Mr. Neal Walker, UN Resident Coordinator and UNDP Resident Representative in Ukraine visited one of these objects of CBA Project in Kramatorsk. Joint EU/UNDP Project creates favorable conditions for IDPs' accommodation in Donbass inter regional center of professional rehabilitation of disabled people. In five stored building hot water supply system, a number of rooms and toilets will be repaired. Also, a new elevator will be installed.
'Today it is very important for us to cooperate with new partners and organizations that will be able to develop Ukraine in this hard time. Providing different types of support to Ukraine to make it stable and developed country is among the most important priorities for the UN. Now we have to react quickly to all processes and events, especially in Donbass region, to look for new ways providing humanitarian aid as soon as possible. Also communities play a very important role in solving these kinds of problems', highlighted Mr. Walker during his visit.
Neal Walker participated in round table, saw the premises and process of project implementation. He talked personally to IDPs living in the Center, and even tried backings cooked by dwellers of the Center specially for him.
In its turn, people living in the Center thanked UNDP for help and stressed that this kind of support is very important for them today. These people expressed hope that after repair works are done their life will turn to the better.
Upon completion of repair works, more than 200 people will be accommodated in the building of the Center. Total cost of the micro project is more than 800 thousands UAH. The EU/UNDP Project 'Community Based Approach to Local Development' supports Donetska oblast since March 2009.
13-14 February 2015, in Novograd-Volonsky of Zhytomyrska oblast, staff members of CBA Project's Urban Development Unit participated in a professional training-seminar that was organized to improve the personnel professional skills and qualification. 12 staff members – Urban Development Officers of the CBA Urban Development Unit, will work in 24 partner cities assisting local communities in solving of local development issues and tasks in partnership with 'Community Based Approach to Local Development' Project.
Novograd-Volynsky was selected intentionally as a place for the training-seminar. There are more than 320 multi apartment buildings in that city, in which owners of apartments united into associations (association of co-owners of multiapartment building - ACMB) and started to manage and maintain the buildings on their own.
The participants of the training-seminar visited four of those associations: ACMB 'Kedr', 'Koloryt', 'Chaika', and 'Komfort', conversed with the Heads of the associations' executive boards and learned about their experience in ACMB management and operations. The associations' Heads of Executive Boards – Liubomyr Maletych, Anatoliy Legenchuk, Oleh Paletsky, and Serhiy Symonchuk – are very experienced professionals of this no easy but honorable work.
Novograd-Volynsky municipal officials demonstrated high interest to the actual issues of legislation, ACMB functioning and development that were considered during the seminar. Therefore, in the seminar participated Serhiy Kolotov, Deputy Mayor of Novohrad-Volynsky, Svitlana Karpinska, Head of Economic analysis and planning department, Tetyana Levkivska, Specialist of Municipal initiatives and investments department of the municipality.
The training-seminar was organized and facilitated by Leonid Tulovsky, Urban Development Specialist of CBA Project.
Now Ukrainian students learn about communities and their cooperation with authorities through business games. In partnership with universities EU/UNDP Project "Community Based Approach" started trainings for youth at Community resource centers. Students and postgraduates of Zaporizky National University successfully coped with tasks during game training "registration of community organisation"
Based on the examples of CBA partner communities, participants of the training learned about cooperation of communities and authorities, strategic planning and community organisation registration. During the practical part of the training students simulated Local development forum. In form of game students practiced in establishing dialogue between communities and authorities.
An annual Meeting for summarizing and planning of the Network of CBA partner Universities took place on 4 - 6 February 2015. This year the event took place at National University "Ostroh Academy". During three days meeting coordinators from partner universities summarized the results of their work in 2014 and also developed a plan of activities for 2015.
Head of National University "Ostroh Academy" Ihor Pasichnyk opened the event. In his welcoming speech he underlined that, "Without historic memory we cannot bring up the new generation of patriots. We are representatives from different universities. We all have the same aim – cultural and informational: to promote Ukrainian culture among Ukrainians and foreigners".
Mrs. Olena Ruditch, Community development specialist of EU/UNDP Project "Community Based Approach" stressed on practical value of Network activity: "Such tools as Student debates, Contest for students' research papers, Summer schools proved their effectiveness once again. Education of new generation is one of the key factors of sustainable development of our country."
In terms of the meeting participants discussed the results of Network activities in 2014. Among achievements was creation of academic resource centers at universities and field visits for students in terms of curriculum. Such activities as Students debates, Summer school, Contest for students' research papers were successfully held during 2014.
Traditionally participants elected new Coordinator of the Network. Mrs. Inna Dudareva (Zaporizky National University) headed the Network of CBA partner universities.
Go to Project News section...
CBA PROJECT IN THE REGIONS
У Тернополі відбувся запис телепрограми «Європа очима українців» про основні досягнення та подальші перспективи впровадження Проекту ЄС/ПРООН «Місцевий розвиток, орієнтований на громаду»(МРГ) в області. Завдяки передачі глядачі Тернопільської обласної державної телекомпанії дізнаються про основні результати впровадження другої фази Проекту МРГ на Тернопільщині, а також про початок Третьої фази Проекту.
Раніше процес реалізації Проекту широко висвітлювався в різних інформаційних та тематичних програмах обласного телебачення області, під час прямих ефірів, інтерактивного спілкування тощо.
In Zaporizka oblast a refurbished kindergarten in village Blagovischenka Kuibyshivsky rayon was formaly opened. Under the CBA Project support hot water supply system which use solar power was installed, old windows and doors were replaced and partially heat insulation of frontage was done. Thanks to these complex measures premises of the kindergarten willstay warm in inter. Besides, usage of solar energy will do savings to local budget. To implement this initiative community members gathered more than UAH 25 ths., and Project provided more than UAH 229 ths. More than 1000 community members benefited from microproject implementation.
For Blagovischenka it was the second implemented microproject. Community was selected for implementation of additional quota issued by the Project in 2014 to implement energy efficient initiatives. In total in Zaporizka oblast 9 rayons participate in regular component of CBA, and 3 rayons in replication component. Out of them 4 rayons additionally are piloting in energy efficient component, also out of them 5 rayons were selectedfor implementation of additional quota. Overall, in oblast the Project demonstrated a close cooperє
ation of communities with local authorities on village, rayon and oblast level. More information in a video
Go to CBA Project in regions section...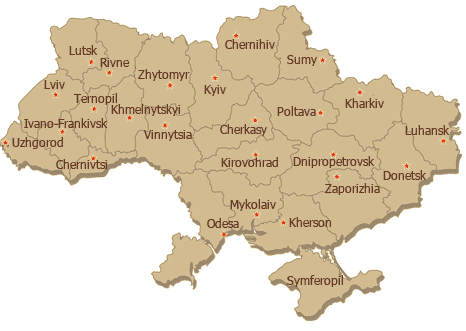 ABOUT CBA PROJECT
The II phase of the Community Based Approach to Local Development Project (CBA) launched its activities on 7 June 2011. The Project is funded by the European Union and is co-financed and implemented by UNDP Ukraine. The total budget of the second phase of the Project's is €17,1 million with 98.4% contribution from EU and 1,6% cost sharing from UNDP, which will be used to support sustainable socio-economic local development. More...
Video