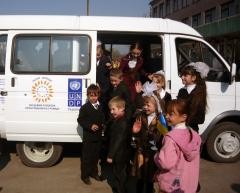 On 15, April in the Antoniny village of Khmelnytska oblast, the first project opening was held when the school bus purchased within the framework of EU/UNDP CBA Project was handed over to Antoninsky educational district of Krasilivsky rayon. From now on, children from villages of Zakrinichchya, Dublyanka and Antoniny will travel to school and out-of-school educational establishments with a new schoolbus.
To solve this pressing problem, the community of parents, teachers and pupils of these three schools got organized and formed the association «Antoninskiy kraj». At general meetings, community members discussed and defined the problem of transport of children to school as the priority. Community organization activists participated in a number of trainings, ant then wrote, defended and implemented their first micro-project «Equal and easy access to Antoninsky educational district». The cost of project is about UAH 84000, of which about 50% was the input of the CBA Project.
A neighbouring community of Korchivka village, Krasilivsky district decided to carry out a micro-project on energy-saving in local school. After the first dialogue with local people, they decided to form an organization «Fortune» and realize a micro-project «Replacement of windows in Korchivskiy school». Total cost of the project is about UAH 109000. It is planned that by July 2009, CO "Fortuna" will replace 50 windows in the local school.
Joint EU/UNDP Community Based Approach to Local Development Project was launched in September 2007. Activities of CBA Project in Khmelnytska oblast started in March 2008, with a tripartite Partnership Agreement between Oblast State Administration, Oblast Council and CBA Project signed in September 2008. 8 rayons of Khmelnytska oblast were selected through a competitive procedure: Izyaslavskyi, Slavutskyi, Shepetivskyi, Letychivskyi, Horodotskyi, Bilohirskyi, Krasylivskyi and Derazhnyanskyi. In each of these rayons, 5 pilot communities were selected. With support of the EU and UNDP, they will be able to get organized and improve their living conditions.