Details

Created: 14 October 2014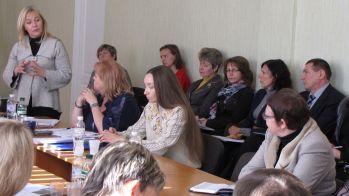 The Third phase of joint EU/UNDP Project "Community Based Approach" was officially launched in Luhanska oblast on 9 October 2014 during regional seminar and donors meeting in Severodonetsk.
Distinguished attendees included Mrs. Inita Paulovica, the UNDP Deputy Resident Representative in Ukraine, Mrs. Elena Ruditch, CBA Project Community Development Specialist, Luhansk oblast state administration authorities, leadership of rayon state administrations and rayon councils; and heads of village and city councils.
The deputy head of Luhansk oblast state administration Olha Lishnyk in her welcoming speech stressed on the importance of any aid for Luhansk oblast and thanked for an opportunity to pa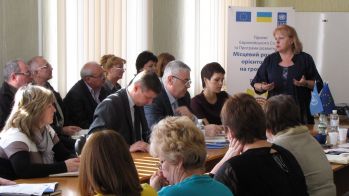 rticipate in the the Third phase of EU/UNDP Project "Community Based Approach".
"Today Luhansk and Donetsk regions are in the centre of public attention throughout the world. Military operations caused great damage to the economics, the social infrastructure is ruined, people are suffering. The winter is coming, which makes the problems of the regions especially acute. The situation in Ukraine requires consolidate efforts and joint actions from the side of state, local authorities, representatives from non-government sector. The task of UNDP in the world is to create a network of people of all social strata for building nation, which could stand against any crisis and provide sustainable development for everyone's lives improvement", mentioned Mrs. Inita Paulovica, during the seminar
Mrs. Inita Paulovica also underlined that cooperation with Luhansk oblast was always fruitful and also suggested models for addressing challenging issues for other oblasts of Ukraine. Thanks to joint efforts of UNDP, local authorities and private investors for the first time in Ukraine a unique project for "Methane capture and utilization from solid domestic waste landfill in Oleksandrivsk, Luhansk oblast". Unfortunately the landfill was damaged during military operations. The projects "Community Based Approach", "Programme for sustainable development of Luhansk oblast", Small grants programme of Global ecology fund helped to achieve great results and showed an example to other oblasts.
During launching it was annou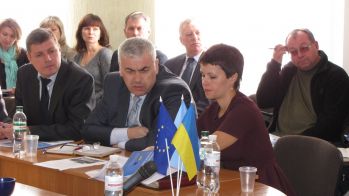 nced about the start of competitive selection of rayons for participation in the Project. Now rayons will be able to submit applications for participation in the Project until 25 October 2014. After this the contest committee will define 8 rayons-winners which will participate in the third phase of CBA Project. The Application form can be found: http://www.cba.org.ua/three/ua/news/announcements/2616-application-form-for-rayons-for-partnership-with-cba
During regional seminar an Action Plan for Project implementation in oblast and also a plan of measures for preparation to the upcoming winter was introduced.
Implementation of the first phase of CBA Project commenced in Luhansk region during December 2007. First phase was succeeded by a second phase in July 2011. Over these two phases 68705 of men, women and children of the region have benefitted from improvement in 28 schools/kindergartens, 6 healthposts, 30 water supply, 24 street-lightning and so on. This happened through joint effort of the citizens, oblast/rayon/local level governments, CBA Project and the private sponsors.
Third phase of CBA project will be implemented during 2014-2018 with a total budget of 23.8 million Euro, provided by the European Union (23 million Euro) and UNDP (800,000 Euro). Its objective is to promote sustainable socio-economic development at local level by strengthening participatory governance and fostering community-led initiatives across Ukraine