Details

Created: 16 October 2014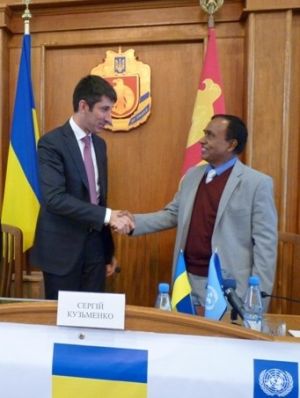 In Kirovograd oblast on 15 October 2014 the Third phase of the EU / UNDP Community-Based Approach to Local Development (CBA) Project was launched today in oblast with regional and local authorities, civil society organizations, private sector companies and the media. During the regional seminar participants discussed perspectives for further cooperation for promoting community-led activities to improve the living conditions of people in Kirovograd oblast
Distinguished attendees included Head of Oblast State Administration Serhiy Kuzmenko, Head of Oblast Council Oleksandr Chornoivanenko, International project manager of joint EU/UNDP Project "Community Based Approach" Jaysingh Sah, Monitoring and communication specialist of joint EU/UNDP Project "Community Based Approach", leaders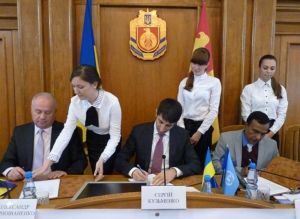 hip of rayon state administrations and rayon councils; and heads of village and city councils.
During the regional seminar Head of oblast council Oleksandr Chornoivanenko underlined «I strongly believe that we are able to change the situation for better if oblast council, oblast state administration and all communities work hard with investors and donors. I would like to direct you for this cooperation, for project implementation and I am ready to support you.».
During regional seminar an Action Plan for Project implementation in oblast was introduced. During launching it was announced about the start of competitive selection of rayons for participation in the Project. Now rayons will be able to submit applications for participation in the Project. After this the contest committee will define 8 rayons-winners which will participate in the third phase of CBA Project. The Application form can be found: http://www.cba.org.ua/three/ua/news/announcements/2616-application-form-for-rayons-for-partnership-with-cba
CBA activities will focus on rehabilitating basic social and communal infrastructure in the priority areas of energy efficiency, health, environment and water management together with promoting small farm and non-farm businesses in rural areas. In its third phase, CBA project will strengthen capacities of regional and local authorities to practice participatory governance, as well as intensify community-based approach in Kirovohrad region. It will support the Ukrainian Government in developing policies in the area of decentralization and share innovative approaches and good practices on participatory governance and community-led local sustainable development through knowledge hub and the curriculum of twenty regional universities
Implementation of the first phase of CBA Project commenced in Ternopil region during March 2008. First phase was succeeded by a second phase in July 2011. Over these two phases 80300 of men, women and children of the region have benefitted from improvement in 80 schools/kindergartens, 12 healthposts, 8 water supply, 1 environment, 4 rural economic development, 6 school buses and so on. This happened through joint effort of the citizens, oblast/rayon/local level governments, CBA Project and the private sponsors.
Third phase of CBA project will be implemented during 2014-2018 with a total budget of 23.8 million Euro, provided by the European Union (23 million Euro) and UNDP (800,000 Euro). Its objective is to promote sustainable socio-economic development at local level by strengthening participatory governance and fostering community-led initiatives across Ukraine