Details

Created: 10 November 2014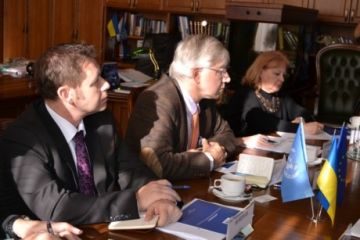 Along with Zaporizhka oblast, on November 6 Mr. Neal Walker, the United Nations Resident Coordinator and UNDP Resident Representative in Ukraine, visited Dnipropetrovska oblast. Among key issues officials discussed the problem of IDPs in Dnepropetrovska oblast and ways to resolve the problem.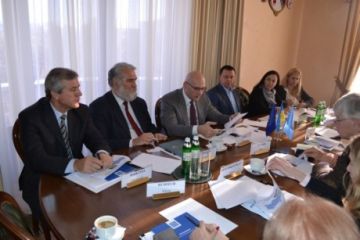 "For us it's quite important to develop long-term partnership. And Dnipropetrovska oblast is among the few which have fulfilled their commitment of co-financing community projects, local communities, and this is real success in the oblast. We develop our strong collaboration in the sphere of human rights, humanitarian aid, and local sustainable development", underlined Mr. Neal Walker during the meeting with oblast state authorities.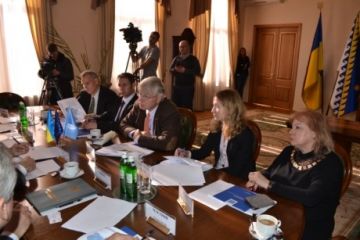 In his welcoming speech the Head of Dnipropetrovsk oblast council Yevhen Udod underlined: "For us it is very important that our oblast was among the first regions, visited by United Nations Resident Coordinator Mr. Neal Walker. Cooperation with United Nations is of high priority for us. UN development project is one of the key assistant of oblast authorities on the way to local sustainable development", said Mr. Udod. He also stressed on the impact of CBA Project in oblast: "Results of such cooperation speak for themselves: we have implemented 124 different projects, which improved living conditions of people in the region. Among key beneficiaries there are subsidised villages, which do not have enough money in a local budget to address the issues by themselves: to restore water-supply system, street lightning, to procure medical equipment or implement energy saving measures. Thanks to these measures, Dnipropetrovska oblast is on the way to a sustainable local development".
In terms of the visit it was agreed to continue cooperation in the area of local sustainable development, and it was agreed to jointly address the issue of IDPs from south-eastern Ukraine and rehabilitation of wounded.
Implementation of the first phase of CBA Project commenced in Dnipropetrovsk region during July 2008. First phase was succeeded by a second phase in July 2011. Over these two phases, 112163 men, women and children of the region have benefitted from improvement in 57 schools/kindergartens, 23 healthposts, 11 water supply, 19 street-lightning, 3 school-buses, 12 energy efficient microprojects which use alternative energy sources and so on. This happened through joint effort of the citizens, oblast/rayon/local level governments, CBA Project and the private sponsors.
Dnipropetrovsk oblast is also the recipient of advanced support in the area of energy efficiency. Under this support, the regional energy-efficiency strategy was updated; adoption of energy efficient technologies and renewable energy technologies in rural areas was included in the mid-term strategy; technical document for larger investment in the area of energy efficiency and renewable energy technology in line with the updated oblast strategy is in preparation, a mobile laboratory established to promote energy audit in the region. Due to the oblast scientific potential and commitments of oblast authorities, it is expected that Dnipropetrovsk oblast will become a model case for the introduction of energy-efficiency measures in rural areas.
Third phase of CBA project will be implemented during 2014-2018 with a total budget of 23.8 million Euro, provided by the European Union (23 million Euro) and UNDP (800,000 Euro). Its objective is to promote sustainable socio-economic development at local level by strengthening participatory governance and fostering community-led initiatives across Ukraine