Details

Created: 26 January 2015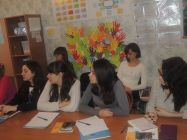 Students and postgraduates entered the course in Sustainable development at the Academic resource centre in sustainable development at the faculty of sociology and management of Zaporizky national university. The first seminar took place on the 23rd of January and was an introduction to sustainable social development. Based on practical examples from CBA Project experience participants discussed the problems of self-organization, leadership, attracting funds and taxation issues.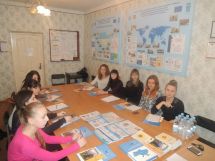 The course in Sustainable development is planned for up-to 4 months. In terms of it students and postgraduates will have a chance to meet with community leaders and activists, heads of village councils, heads and representatives from rayon state administrations and councils. Participants will also visit communities, community organisations, and local cooperatives. They will see on practice how the self-organisation works and will learn different aspects how the local self-governance bodies work. Experts from different areas will provide students basic knowledge about energy efficiency, ecological management, basics of national taxation system etc.
The Head of Academic resource centre Inna Dudareva stressed on great potential for scientific researches in the area of sustainable development.