Details

Created: 20 February 2015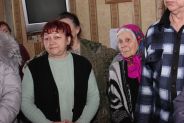 Today because of hard situation in the East of Ukraine, more and more people need normal living conditions and warmness in their houses. Children, aged and disabled people are forced to survive winter coldness without even basic medicine and blankets.
In Kharkivska oblast, joint EU/UNDP Project 'Community Based Approach to Local Development' (CBA) together with local authorities and communities do the best to accommodate internally displaced persons (IDPs) in as much as possible comfortable conditions.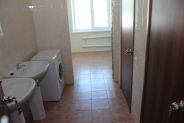 In Kharkiv region, EU/UNDP Project implements two micro-projects on providing favorable conditions for dense living of IDPs. One project is realized in school premises in Balakliya (Balaklijskyi rayon); another one is in Khorosheve (Kharkivskyi rayon).
In both of these premises capital repair and repair of inside rooms has already started: old doors are replaced with the new ones, corridors and toilets will be equipped. For disabled people, special handle rails will be installed in the corridors, elevator sides, and assembly halls. Special entrance ramps are planned to be installed on the passages.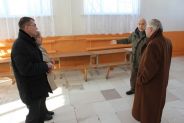 Mr. Neal Walker, UN Resident Coordinator and UNDP Resident Representative in Ukraine visited Balakliya. In a secondary school of Balakliya, capital repair is under process. At this time, windows are replaced with the new ones, solid fuel cooper is installed; some parts of floor are painted. Several inside rooms are equipped with furniture and repair of heating system is almost finished.
During his meeting with IDPs in Balakliya, Mr. Neal Walker highlighted importance of cooperation between donors, local authority and local communities in these hard times. 'Synergy of our joint activities in helping people certainly will lead to positive results. Today, it is expected that more and more people needing our support. Thus, every day we have to do everything we can to solve their problems. Peace – is fundamental', stressed Mr. Walker visiting the school.
People who found resort in the premises of Balakliya school, thanked UN for moral and finance support, and for opportunity to live in normal conditions. These premises are already warm because of replaced windows and new heating system, but many rooms still lack beds, furniture, and plates with dishes. Upon completion of repair works, more than 60 people including children will live here. Total cost of this project is more than 450 thousands UAH.
Mr. Serhij Chernov, Head of Kharkiv oblast council, during his meeting with Mr. Neal Walker assured that authority would join its efforts with donors and local communities not only for increasing humanitarian aid, but also for solving problems related to IDPs' registration at new place.
In general, EU/UNDP Project 'Community Based Approach to Local Development' supports two micro projects on creation living conditions for IDPs in 7 oblasts: Dnipropetrovska, Kharkivska, Poltavska, Zaporizka, Odeska, Donetska, and Luhanska. Total cost of these projects is more than 12 mln UAH.