Details

Created: 16 March 2015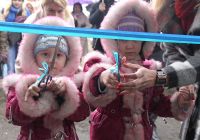 Little girls officially cut the ribbon to open their temporary shelter in Kharkivska oblast – reconstructed premise of youth sport school in Balaklia. The first stage of reconstruction was done with a support of joint EU/UNDP Project "Community Based Approach to Local Development" and local authorities. Now around 60 internally displaced people from Donetska and Luhanska oblasts will live here, including 15 children. The total budget of the microproject is more than UAH 450 ths.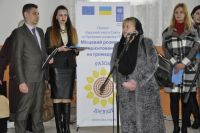 Now families of internally displaced persons will move in the rooms of the reconstructed school on the first floor. After reconstruction necessary living conditions were created. New doors and windows, heating system were installed, a number of rooms were refurbished, bathrooms were reconstructed, kitchens were created, and in some premises the floor was refurbished.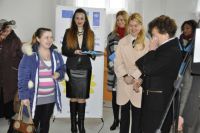 Yulia Svitlychna the deputy head of Kharkivska oblast state administration, Olena Oleshko the first deputy head of Kharkiv oblast council, Stepan Maselsky the head of Balakliya rayon state administration participated in the official opening of the reconstructed school in Balaklia.
«It is a pleasure for me to mark that thanks to joint efforts of the EU/UNDP Project and authorities of all levels now we can provide a shelter for people who need this most of all. Together we do all we can to make the life of the internally displaced people in Kharkivska oblast easier, as many of them were not even able to take the first need things from their homes», said Yulia Svitlychna, deputy head of Kharkiv oblast state administration during the opening.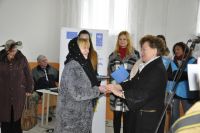 Olena Oleshko, first deputy head of Kharkiv oblast council mentioned, «for a short period of time authorities together with CBA Project and community implemented this project with all their heart and warmth, as all of us realized that we have to do everything we can for these people».
Before the official opening the object which was under reconstruction by EU/UNDP Project visited the Neal Waker, UN Resident Coordinator and UNDP Resident Representative in Ukraine. During the meeting with internally displaced persons in Balaklia Neal Walker stressed on the importance of the partnership of donors, local authorities and communities during this uneasy time for the country.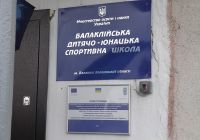 Beside the reconstruction of youth sport school in Balaklia, EU/UNDP Project implements one more project in Kharkivska oblast – in village Khorosheve of Kharkiv rayon for internally displace people with special needs (disabled people and disabled people in wheelchairs). In the house for elderly people new windows and doors will be installed, halls and additional bathrooms will be equipped accordingly, special handrails for the people with special needs will be installed in the corridors, halls, elevators, rampant will be constructed, also bathrooms will be equipped with stairlifts.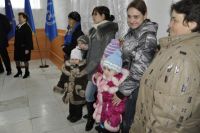 «Support of the internally displaced persons and renovation of the social infrastructure is one of our top priorities now. CBA promotes community-led development to improve the quality of life of Ukrainian citizens. Thus we are ready to support people in their needs in this situation. Further, communities play a critical role in solving these kinds of problems'», underlined CBA International Project Manager Mr. Hendrik van Zyl.
UNDP jointly with European Union and in partnership with local authorities supports community projects to restore social infrastructure objects in 7 oblasts – Dnipropetrovska, Kharkivska, Poltavska, Zaporizka, Odeska, Donetska and Luhanska – with a total budget of around half a million dollars (more than UAH 12 mln )