Details

Created: 08 July 2015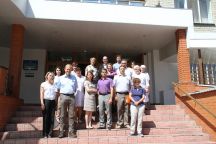 On 6-7th July high level EU and UNDP representatives visited Luhansk and and Kharkiv oblasts to better assess urgent needs and plan further steps aimed at improving the lives of the people affected by the conflict in eastern Ukraine.
The delegation comprised of Mr. Berend de Groot, Head of Cooperation of the EU Delegation to Ukraine, Counsellor Mrs Helga Pender, Project Coordinator of the EU Delegation, Mr. Janthomas Hiemstra, UNDP Ukraine Country Director, Ms.Oksana Remiga, UNDP Ukraine Senior Programme Manager and Mr. Marcus Brand, UNDP Ukraine Democratic Governance and Local Development Advisor, along with UNDP field managers.
The officials met with representatives of the Luhansk oblast authorities, law-enforcement, housing and communal sector bodies, and local NGOs to get their take on the situation in the region and the first priority needs.
The UNDP and Luhansk regional administrations signed a Memorandum of Understanding outlining current and planned areas of UNDP support to the region.
On July 6th, the delegation visited several social facilities reconstructed by the "Community Based Approach Programme", an EU-UNDP partnership, in Kharkiv region, including a center for internally displaced people with disabilities in Khoroshevo village. On July 7th EU and UNDP officials visited project sites in Luhansk oblast, including a social services center for internally displaced people called "Mriya" in Kreminna town, a local health post in Yepifanivka village and a childcare center serving internally displaced persons in Severodonetsk. The group also visited a hospital in Rubizhne which will be restored by UNDP with funding from the Japanese government and the East Ukrainian Dal' National University in Severodonetsk which will employ a number of internally displaced people with the UNDP-Japan support.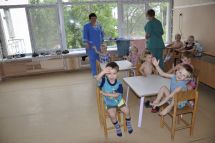 "Creation of this rehabilitation center for internally displaced persons with disabilities is very inspiring and we can now see that they live in suitable conditions. With the support from EU we are addressing the urgent problems of internally displaced persons," noted Mr. Berend de Groot when in Khoroshevo in Kharkiv oblast.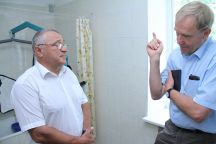 "The conflict in eastern Ukraine has forced more than two million people to leave their homes, and has destroyed infrastructure, economic and livelihood opportunities, and thousands of communities. Supporting recovery and peacebuilding in the conflict-affected areas including for internally displaced people (IDPs) and their host communities, are among the top priorities for UNDP in Ukraine. There is an urgent need for a systemic response to the needs of all people and communities living in conflict-affected areas, which goes well beyond the mere provision of humanitarian aid, - noted Mr. Janthomas Hiemstra, UNDP Ukraine Country Director,- "UNDP in partnership with the EU, Japan and others is helping to restore critical social and economic infrastructure and local government capacities in eastern Ukraine; to create jobs, spur entrepreneurship among IDPs and host communities; and to promote peace and reconciliation within and between the various communities affected by the conflict.