Details

Created: 14 January 2016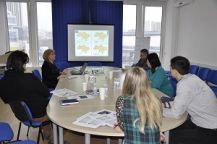 On 14-15 January 2016, the joint EU/UNDP Project "Community Based Approach to Local Development" (CBA) conducts training for the new regional community development officers.
Officers from Zaporizka, Luhanska, Chernivetska and Khersonska oblast were introduced to the CBA methodology aimed at social mobilization and community development. The participants also received detailed explanations and recommendations regarding the implementation of micro-projects in villages/small towns, including tender, financial and administrative procedures of the Project. Apart from that, they were also briefed about monitoring and reporting requirements, communication strategies and the project component directed at knowledge management and cooperation with the local universities.
During this meeting, the participants also discussed the work plan and priorities for 2016. The new staff are joining the team of regional officers who coordinate implementation of regional development projects in 24 oblasts.