Details

Created: 28 January 2016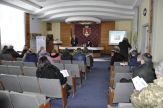 On 28 January 2016, a contest for participation in 2016 in the urban component of the joint UNDP/EU project "Community-based approach to local development" (CBA) was opened in the cities of Ukrainka and Pereyaslav-Khmelnytsky, Kyiv region. Associations of co-owners of multi-story buildings (ACMBs) to be selected on competitive basis will be trained how to manage their own house, to establish effective dialog with the local self-governance bodies, authorities involved in granting permission for business activities. Most importantly, they will be able to refurbish their own house under co-financing scheme, receiving allocations from the local budgets, the CBA project and making their own contributions.
For comparison, during 2015 the CBA has directly supported 206 ACMBs throughout Ukraine.