Details

Created: 04 March 2016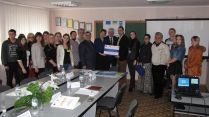 On 2 March 2016, an official opening of Resource Center for Community Development took place in Starobilsk, Luhansk region, on the basis of Luhansk Shevchenko National University relocated to this city from the occupied territory. The event was organized in round table format and all participants could share their proposals and vision of the future activities of Resource Center that has been created with support of the joint UNDP/EU project "Community-based approach to local development" (CBA).
The event was opened by Vitaliy Kurylo, Head of supervisory board of Luhansk University, member of parliament, who was one of the prime movers behind the creation of this University Resource Center. Among other officials attending the opening were Anatoliy Harkavyi, Head of Starobilsk rayon state administration, Valeriy Arkhipov, Head of Political Sciences and Law Faculty, coordinator of public relations for Ombudsman on human rights office in Luhansk region, Oleksandr Babichev, Deputy-principal on scientific and pedagogic activities, as well as CBA project coordinator in Luhansk region. Iryna Mygovych, Head of the center for international and academic activities and newly appointed head of Resource Center at Luhansk University, also briefed the audience how the Center was created and shared activities plan for 2016.
Creation of this resource center on the basis of Luhansk National University will open new opportunities to introduce CBA methodology to Ukrainian students and will allow the University to widen partnership. This is the second University resource center opened this year in Luhansk region with CBA support.