Details

Created: 30 March 2016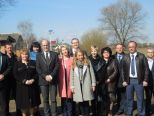 UNDP Delegation led by Mr Janthomas Hiemstra, UNDP Country Director in Ukraine, that is vising Ivano-Frankivsk region these days, stopped over in Poberezhia village to see the results of the community initiative on energy efficient street lightning that has been implemented with support of the joint UNDP/EU Project "Community-based approach to local development".
The guests were shown the solar panels that switch on automatically when it gets dark. However, this is not the only benefit of this eco-friendly renewable energy system; the local community opted for the solar energy instead of the traditional overhead and underground power lines to ensure the availability of street lightning in the areas at high risk of flooding from the rivers Dnister and Bystrytsia. From now on the street lightning in Poberezhya will go uninterrupted under any weather condition. Solar panels can work up till 10 hours a day, and service life of such panels is 25 years.
Project in Poberezhya is one of 129 initiatives on energy efficiency implemented in 23 regions of Ukraine with the CBA support.