Details

Created: 01 April 2016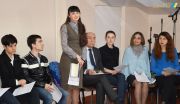 On 30 March 2016, Vinnytsia hosted two evets aimed at enhancing the cooperation between the joint UNDP/EU project "Community-based approach to local development" (CBA) and Partner Universities Network.
In particular, the meeting in Vinnytsia Institute of Trade and Economics was dedicated to review last year activities of the Resource Center functioning at the University. Natalya Mokhnachova, Center Coordinator, presented the plan of activities for 2016. Besides, since this University, according to the results of assessment of activities in 2015, was recognized to be a winner and the Resource Center received some useful presents. In particular, Svitlana Slabinska, CBA Monitoring and Communication Specialist, handed over to the Center a laptop and a multifunctional device.
The same day Svitlana Slabinska had a meeting with the representatives of Donetsk National University that recently joined the CBA University Network. Roman Hryniuk, Rector of Donetsk National University, handed the signed Memorandum of understanding between the UNDP and the University and informed that has already signed a decree about creation of Information and Resource Center for scaling up the activities aimed at promoting sustainable development, decentralization and realization of constitutional rights of territorial communities for the management of their territories, facilitation sustainable development through training and activation of research in this area. There are premises allocated for the Center and a sign plate that was presented at the meeting with the CBA Project. The faculty staff and students of the University that relocated from the conflict zone are willing to actively participate in activities of the Network.