Details

Created: 08 April 2016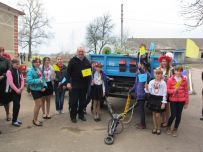 On 6-7 April 2016, there were two official openings of the agricultural cooperatives – "Dobrobut Shevchenkove-2015" in Shevchenkove village and "Polisyanochka" in Pervomaiske village – taking place in Sumy region. These cooperatives have been created with support of the joint UNDP/EU project "Community-based approach to local development" (CBA).
Both events marked a special day for the villagers of Hlukhiv rayon and the neighboring rayons. The invited guests congratulated the cooperatives with successful completion of the microprojects and said that their participation in the CBA project means a big responsibility for the whole community of Hlukhiv rayon. Therefore, it is necessary to show good results of cooperation with the CBA and introducing European standards.
As Viktoria Sokol, Deputy Head of Hlukhiv rayon administration, said, "Cooperation with the CBA Project serves a good example of effective collaboration since 2011. For many communities it gave an impulse for transformation. At the moment, proactive communities inspired by example of their neighbors are eager to cooperate with the Project to improve the living standards in the rural area."
Halyna Storozhenko, Deputy Head of Hlukhiv Rayon Council, said: "Land is the highest value for rural dwellers. We should praise and love our land like our own baby. Such small cooperatives are the future of rural development. The success of these two cooperatives should be replicated so that the communities become self-reliant and our country flourish."
Members of cooperative told about their experience, the long path that led them to success, as well as showed their agricultural machinery and equipment. The guests from Berezivska community wished them every success and said that these cooperatives will serve as successful example for them.