Details

Created: 11 April 2016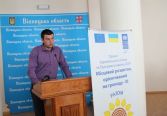 On 7 April 2016, Vinnytsia hosted Oblast Coordination Council of the joint UNDP/EY project "Community-based approach to local development" (CBA). The event gathered together the representatives of oblast and local authorities, civic and private sectors, and mass media in order to discuss further cooperation regarding promoting sustainable development directed at improvement of quality of people's life in Vinnytsia region in 2016.
Present at the Coordination Council were Andriy Gyzhko, First Deputy Head of Vinnytsia Region State Administration, Anatoliy Oliynyk, Head of Vinnytsia Oblast Council, and Olena Ruditch, CBA Community Development Specialist, head of rayon state administrations and councils, as well as heads of town and village councils, heads of NGOs, representatives of the local Universities participating in the CBA's National University Network.
In his opening speech Mr Gyzhko said that the CBA project turned out to be quite demanding but useful for development of the local communities: "Even though the communities received not such big sums, around 25-30 thousand dollars., the Project is focused on institutional development. Thanks to this each community identified a focal person who knows how to write project proposal for participation in the Project and how to report expenses. Since trust of the international donors is usually based on the fact whether we are able to report each single expense accurately." He also informed that Vinnytsia oblast administration and oblast council have signed an appeal stating their reading to continue cooperation on the fourth Phase of the CBA.
Olena Ruditch told about the perspectives and challenges in CBA implementation in 2016, commented on the progress of implementation of microprojects of regular CBA component and new CBA components on energy efficiency and rural economic development.
During the Coordination Council the results of activities in 2015 have been reviewed and plan for further implementation of the CBA main goals in the context of decentralization reform were communicated.
Heads of state administration in Barsky, Tomashpilshy and Chechelnytsky rayons came up with proposals how to improve their work in 2016.
Roman Hryniuk, rector of Donetsk Natioanl University relocated to Vinnytsia from the conflict-affected area, and Natalia Zamkova, Director of Vinnytsia Institute of Trade and Economics, briefed the audience about their cooperation with the CBA's Universities network.
The event was closed by issuance of certificates to those communities that completed the implementation of CBA-backed microprojects.