Details

Created: 14 April 2016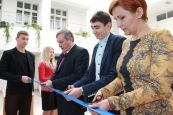 On 14 April 2016, Resource center for sustainable development has been officially opened in Cherkasy "European University".
The University joined the National Network of Partner Universities created with support the joint UNDP/EU project "Community-based approach to local development" (CBA) in February 2016. Cherkasy "European University" became the third university in Cherkasy region that joined the CBA's University Network.
In his welcome speech, Viktor Shpyliovyi, Director of "European University", highlighted the University's interest in cooperation and implementation of the joint activities directed at promotion of the principles of sustainable development, decentralization and community-led local governance through wide engagement of the students.
The CBA project coordinator in Cherkasy region presented to the students and faculty staff the CBA methodology and the project's achievements from its launch in 2008 till now. Vasyl Stetsenko, Deputy Head of Regional Development Department at Charkasy Oblast State Administration, stressed on the importance of promoting the concepts and experience of community-led local development.
Iryna Vasylenko, Resource Center Coordinator at "European University" presented to the audience the activities plan for 2016 and the main objectives of the Center.