Details

Created: 15 April 2016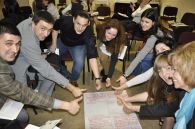 On 14-15 April 2016, Lviv hosted the special strategic session attended by the regional coordinators of the joint UNDP/EU project "Community-based approach to local development" (CBA) and coordinators of Resource Centers at the Universities participating in the National network of CBA's partner Universities.
The event started from the field visit to Zolochiv, Lviv region, where the participants visited Zolochiv solid waste landfill where the modern technologies of waste sorting and storage are applied. They had an opportunity to see how the landfill functions, to find out from the staff about ecological security, cost-effectiveness, sorting technology and waste management.
After that the participants visited an association of co-owners of multi-apartment buildings (ACMB) established in Zolochiv with the CBA support. During this visit, they met the ACMB members who shared their practical experience and told about their cooperation with the city authorities.
After this practical introduction, strategic session started that was aimed at drafting the concept of sustainable development of smart cities with participation of CBA's University Network. The session was opened by Svitlana Slabinska, CBA Monitoring and Communication Specialist, who briefed about the achievements and plans of the CBA University network, and Oleksandr Ryabyi, CBA Urban Development Component Coordinator, who introduced the new project component – smart cities and innovations in urban governance.
Anna Meleganych, the National CBA Network Coordinator, briefed about implementation of the joint Action Plan of University Network, and Anna Alajalyan, Network Consultant, told about possibilities to engage the students into partnership with municipal authorities. The participants also learnt about experience of cooperation between the municipal authorities and Universities in Lviv, Zakarpattya, Poltava and Dnipropetrovsk regions, as it was presented by the CBA regional coordinators. Olena Shershnyova from the National University of "Ostroh Academy" told about sociologic survey among Rivne region population regarding the quality of work of administrative services centers conducted by the students of this University.
Based on the results of discussions, the participants approved the joint Action plan in order to facilitate cooperation between the municipal authorities and Universities in the area of urban governance on the basis of smart cities concept and e-governance.