Details

Created: 18 May 2016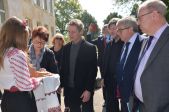 On 17 May 2016, a delegation of four members of European Parliament has visited Lviv region where local community initiatives are being implemented with support of the joint UNDP/EU project "Community-based approach to local development" (CBA). MPs, who are members of the Budgetary Control Committee responsible for controlling the spending of EU money, are visiting Ukraine to see how the EU aid allocated for supporting stabilization and reform process in Ukraine is being used on the ground.
Head of delegation Inge Gräßle (Germany) and her colleagues Joachim Zeller (Germany), Derek Vaughan (UK), Ryszard Czarnecki (ECR, Poland) were briefed about the implementation of the CBA project in Lviv region during 2008-2016. The guests visited Luky village, Sambirsky rayon, where they saw the results of microprojects on energy saving and energy efficiency in a local school and a kindergarten, in particular, reconstruction of boiler house where an old equipment was replaced with energy saving gas condensing boilers. Thanks to this initiative, the village community saved some 19,000 m³ of gas during the last heating season.
During the meeting with parliamentarian delegation, the local community told about implementation of up-to-bottom approach in their village, about participatory planning, training, selection of contractor, control and monitoring of the executed works, community audit and maintenance of results after handover of the objects.
Vitaliy Kimak, Head of Sambirsky Rayon Council, has noted that the key achievement of partnership of the local community with the EU/UNDP project is promoting proactive attitude of community that contributes to sustainable development and effective addressing of the local problems. "Therefore, continued support from the EU is really important for us, especially in the context of forthcoming decentralization."