Details

Created: 18 May 2016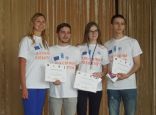 On 17 May 2016, a winning team in All-Ukrainian student debates on sustainable development organized by the CBA Network of Partner Universities, has been announced. This year the debates were focused on discussions of Sustainable Development Goals.
Winner of the debates is the team of Donetsk National University currently relocated to Vinnytsia. Members of the winning team were awarded with tablet PCs. They were also invited to attend a summer school that will take place in Kamyanets-Podilsky city, Khmelnytsk region, this year.
The second place in the debates was earned by the team of Odesa Legal Academy that hosted this event. The audience also favoured the performance of the team of Uzhgorod National University.
In addition to participation in the debates, the participants learnt how Sustainable Development Goals were developed as well as Ukraine's role and students' role in the implementation of the Goals.

The main goal of the debates is not selecting the strongest team but creating opportunities for the student youth to exchange opinions and ideas and promote proactive attitude. The winning team appreciated a friendly atmosphere at the debates saying that "the spirit of competition never turned into a real rivalry". The debate participants also hope that the ideas they discussed and put forward will not remain just a rhetoric but will be implemented.