Details

Created: 13 June 2016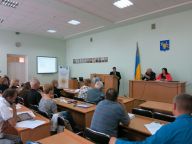 On 10 June 2016, the series of workshops on planning and implementation of energy efficiency measures for energy saving and energy audit in residential houses took place in the tows of Nizhyn and Pryluky, Chernihiv region. The workshops were organized under the joint UNDP/EU project "Community-based approach to local development" (CBA).
Participants of the workshops were representatives of the associations of co-owners of multi-apartment buildings, civic organizations, local self-governance bodies and construction companies from these towns. They learn about integration of energy saving and energy efficiency measures in the framework of the CBA-backed community initiatives and the best practices of alternative energy sources application. It's yet another event co-organized by the CBA project coordinators in Chernihiv region and the CBA Partner University, Chernihiv National Technologic University. Trainers of the workshop were prof. Oleksandr Veligorskyi, Head of the Department of biomedical, radioelectronic devices and systems, and prof. Serhiy Ivanets, Dean of the Faculty of electronic and information technologies. This combination of scholars and practitioners in one audience provided for a fruitful discussion on practical measures and strategic goals of energy saving and energy efficiency.