Details

Created: 19 December 2016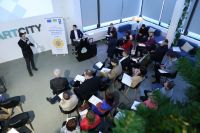 On 15-16 December joint EU/UNDP "Community Based Apporach to Local Development" Project gathered 25 partner cities in Kyiv Smart City Hub for the cluster training "Smart cities - innovations for local governance. Global and national tendencies and best practicies in the area of local governance / smart cities, which are applicable for Ukraine".
Practitioners who have experience of big innovative projects implementation at Kyiv City State Administration came to share their experience - Tetiana Koba (Project "E-procurement"), Viacheslav Novohatsky ("Informational analytical system for managing city proprety in Kyiv, e-services"), Andriy Gusarevych ("Informational analytical system for managing financial and economic activities of Kuiv city"). Oleksandr Markus, Delegate of German Economy in Ukraine talked with participants about experience of using innovative approaches for raising investments to the city. Olena Starodubtseva, the head of educational center of ProZorro talked about e-system as an inovative instrument for governance. Volodymyr Foltz, Head of CO "Electronic Democracy" shared best practices of e-democracy implementation on lcoal lelvel. Yaroslav Boyko, co-facilitator of Kyiv Smart City talked about practical implementation of "Smart City" concept and about life changes it brings to the cities.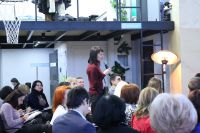 During the event results of micro-projects review were discussed and 27 micro-project were approved in terms of the "Smart City" component.
Currently they are in the process of implementation.
CBA parnter cities soon will implement such smart initiatives as:
- Safe city
- Open Budget
- Citizen's e-cabinet
- City for tourists
- Smart kiosk
- Tele-health
- Online services