Details

Created: 31 January 2017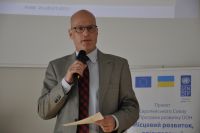 The joint EU/UNDP Project "Community Based Approach to Local Development" (CBA) gathered representatives of the European Union, United Nations Development Programme in Ukraine, Government of Ukraine, Parliament Committees, Ministry of Regional Development together with Ukrainian municipalities, members of Associations of Co-owners of multi-apartment buildings (ACMBs), experts and university representatives for the National Round Table to discuss results and achievements in the area of sustainable urban development in Ukraine and community mobilization.
In his welcoming speech Janthomas Hiemstra, UNDP Ukraine Country Director, underlined that "positive changes became possible due to our joint efforts and in particular due to your responsibility, enthusiasm and initiative. We are happy to be part of these changes and I would like to re-confirm UNDP/CBA commitment to continue our assistance to the Ukrainian Government and to the communities to respond to the existing needs and ensure that proper living standards and policies are at place".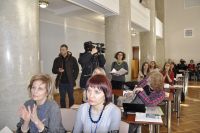 The National Round Table "Opportunities and Innovations for Urban Development" was organized by the joint European Union and United Nations Development Programme Project "Community Based Approach to Local Development" (CBA), to share its experience and methodology in the area of creation and development of the ACMBs, successful implementation of micro-projects in 25 small cities of Ukraine, and promotion of a dialogue between communities, city authorities and donors.
The Head of the Department of Housing Sector of the Ministry of the Regional Development, Housing and Constructions of Ukraine Svitlana Startseva stressed that the country successfully works with international partners to implement reforms: "The policy of the Ministry is aimed to provide high quality services to citizens with accordance to European standards and nowadays demands. We build public spirit together".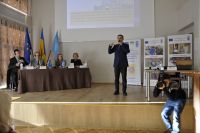 «It's hard to get people together in cause of common goal, especially in cities and in multi-apartment houses. EU/UNDP CBA Project managed to do this. Urban component of the project successfully reacts to challenges which the country is facing: raising energy efficiency, decentralization reform. These will help the country to reach a new development level", shared her vision during the conference Miroslava Didukh, Project Manager of the Delegation of the European Union to Ukraine.
Since June 2015 the EU/UNDP CBA Project supports Associations of Co-owners of Multi-apartment Buildings (ACMBs) and working-out sustainable urban development strategies with an aim to support the reform of the housing sector in Ukraine. Over 2015-2016 urban development component of the Project together with partner cities developed and supported initiatives of 358 ACMBs and implemented 51 micro-project to rehabilitate social infrastructure objects in the cities for the total amount of UAH 70,3 mln, provided by the EU/UNDP. Mostly all initiatives (90%) were focusing on energy saving (replacement of windows, heat isolation of roofs, installation of individual heating units, heat isolation) which allows dwellers of multi-apartment buildings to save money on bills.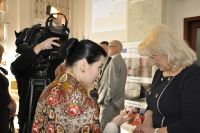 Now EU/UNDP CBA Project is on a new level of cooperation with partner cities – joint planning of urban development strategies together with communities (ACMBs) and authorities. During the conference participants developed recommendations to the municipal strategies based on the principals of the UN Sustainable Development Goals. It will help Ukrainian cities to go on a new level of communication on national and worldwide level. Participants also defined priorities and mechanisms for further cooperation with Government, donors and communities to support sustainable urban development in the context of decentralization reform and local self-governance.
The joint EU/UNDP "Community Based Approach to Local Development" Project works all around Ukraine since 2008. Third phase of the CBA project is being implemented during 2014-2017 with a total budget of 23.8 million Euro, provided by the European Union (23 million Euro) and UNDP (800,000 Euro). Its objective is to promote sustainable social and economic development at the local level by strengthening participatory governance and fostering community-led initiatives in Ukrainian villages and cities. Over three phases of the CBA Project more than 3800 local initiatives were implemented and 5.6 millions of people have already improved their lives. Urban development became a new component of the project in terms of the Third phase. It covers 25 small cities in 12 regions of Ukraine.