Details

Created: 15 March 2017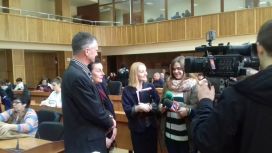 Today CBA Project in partnership with local authorities and communities introduces Electronic Cabinet for Citizens in Uzhgorod. A digital system allows local people to register their personal virtual cabinet where they can monitor city council decisions, budgeting, register their petitions, pay for communal services and control their quality. This tool is aimed to develop good communication between local authorities and communities, to build trust and make the work of city council more transparent and open to people.
More than 113 000 citizens will benefit from this initiative. Total cost of the micro-project is UAH 807,131 out of which city council provides UAH 169,881 and CBA Project provided UAH 637,250.