Details

Created: 17 March 2017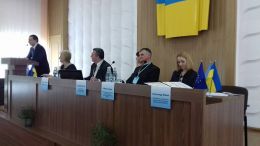 Today the city council of Dubno launched electronic voting system and video streaming. The system records decisions of all deputies and allows citizens to monitor work of the city council. Besides, since now citizens can watch online the work of city deputies and stay tuned about all important city decisions. This smart technologies allow citizens to be a part of decision making as they can register their petitions. Transparency of self-governing bodies will raise people trust in city authorities and be more proactive.
This initiative was implemented in terms of the «Innovative Governance» component of the joint EU/UNDP CBA Project. More than 37 000 people will benefit from the microproject. Total cost of the micro-project is UAH 692,040 out of which city council provides UAH 138,408 and EU/UNDP CBA Project - UAH 692,040.