Details

Created: 24 April 2017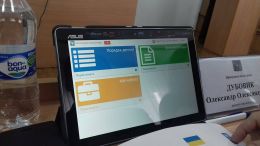 Innovative technologies are closer then you think. More than 56,000 citizens of Pryluky will benefit from "Smart Rada". Now it will take much less time and costs to analyze city deputies' decisions and publish the results on the website. This is a comprehensive system, which systematizes and analyses decision-making process of the city council and automatically publishes results on the website. This system aims to make city council workflow more efficient as it will allow to work faster and reduce expenditures of the city budget.
The special software has three security levels which will exclude any possibilities for external influence. Each deputy will have his work place equipped with the tablet, where he will enter his private cabinet, check the agenda, do the voting etc. Quick publishing of the results of city council work on the website will allow local citizens to be always update about city authorities decisions. This will raise trust to local government and will help to establish communication between authorities and community.