Details

Created: 19 September 2014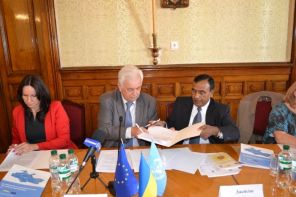 Bukovyna was the second region where the Third phase of joint EU/UNDP Project "Community Based Approach" was officially launched today. The presentation took place on 18 September during regional seminar under participation of leadership of Oblast State Administration, Oblast Council, International project manager of EU/UNDP Project "Community Based Approach" Jaysingh Sah, Community development specialist of EU/UNDP Project "Community Based Approach" Olena Ruditch, heads of rayon state administrations and rayon councils; and heads of village and city councils.
The launch event gathered together regional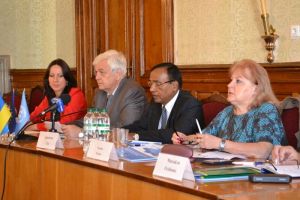 and local authorities, civil societies, private sector and media to discuss cooperation for promoting community-led local sustainable development further to improve the living conditions of people in Chernivetska oblast
During the launching of the Third phase of the CBA Project a Partnership Agreement was signed with Chernivetska oblast state administration, Chernivetska oblast council and UNDP. The main goal is the willingness of local communities and local authorities to implement the community based approach in a full-scale. In terms of the agreement 8 rayons will be selected based on the results of a competition for participation in the project for the next 4 years. The Application form can be found: http://www.cba.org.ua/three/ua/news/announcements/2616-application-form-for-rayons-for-partnership-with-cba.
Participants of the regional seminar discusse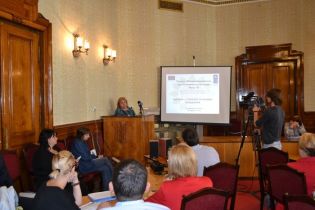 d the Project role in a social and economic development of the region and encouragement of community initiatives on a local level. The Head of Oblast Council Mykhailo Hanycheru and International Project Manager of EU/UNDP Project "Community Based Approach" Jaysingh Sah outlined priorities of further cooperation in Chernivetska oblast.
Third phase of the Project will support local authorities in dissemination of best practices and experience in participatory planning and further dissemination of the community based approach in Chernivetska oblast. The Project activities will focus on rehabilitation of social and communal infrastructure in the area of energy efficiency, health care, environment, water supply, rural economy.
Implementation of the first phase of CBA Project commenced in Chernivtsi region during August 2008. First phase was succeeded by a second phase in July 2011. Over these two phases, 41854 men, women and children of the region have benefitted from improvement in 28 schools/kindergartens, 4 healthposts, 5 water supply, 8 street-lightning and so on. This happened through joint effort of the citizens, oblast/rayon/local level g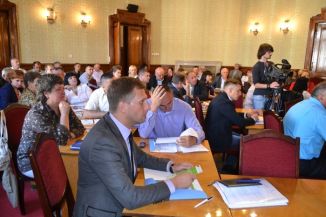 overnments, CBA Project and the private sponsors.
Third phase of CBA project will be implemented during 2014-2018 with a total budget of 23.8 million Euro, provided by the European Union (23 million Euro) and UNDP (800,000 Euro). Its objective is to promote sustainable socio-economic development at local level by strengthening participatory governance and fostering community-led initiatives across Ukraine