Details

Created: 02 October 2014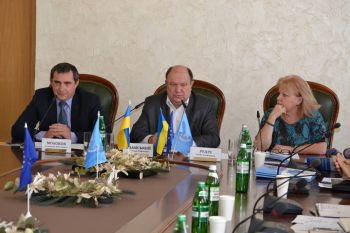 On 2 October2014 the Third phase of the EU / UNDP Community-Based Approach to Local Development (CBA) Project was launched today in Dnipropetrovsk oblast with regional and local authorities, civil society organizations, private sector companies and the media. During the regional seminar participants discussed perspectives for further cooperation for promoting community-led activities to improve the living conditions of people in Dnipropetrovsk oblast
Distinguished attendees included Mr.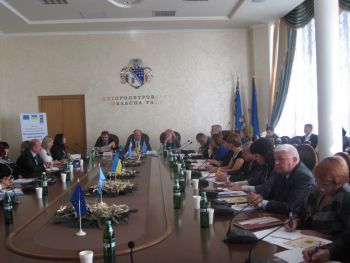 Yevhen Udod, Head of Oblast Council, Ms. Olena Ruditch, Community Development Specialist of joint EU/UNDP Project "Community Based Approach", leadership of rayon state administrations and rayon councils; and heads of village and city councils.
«Today we have completed the second phase of the project on a high level and can move on to the third phase. During the project implementation, community members of Dnipropetrovsk actively participated in its implementation. It clearly shows that people care about the place where they live, and they are jointly involved in its accomplishment. People showed initiative, identified the most urgent problem of its territory, drafted its decision and raised costs for its implementation. Having received additional financial resources provided by the project Oblast Council also shows commitment to fully support proactive community members of the region», underlined in the welcoming speech the Head of Oblast Council Yevhen Udod.
CBA activities will focus on rehabilitating basic social and communal infrastructure in the priority areas of energy efficiency, health, environment and water management together with promoting small farm and non-farm businesses in rural areas. In its third phase, CBA project will strengthen capacities of regional and local authorities to practice participatory governance, as well as intensify community-based approach in Dnipropetrovsk region. It will support the Ukrainian Government in developing policies in the area of decentralization and share innovative approaches and good practices on participatory governance and community-led local sustainable development through knowledge hub and the curriculum of twenty regional universities
Implementation of the first phase of CBA Project commenced in Dnipropetrovsk region during July 2008. First phase was succeeded by a second phase in July 2011. Over these two phases, 112163 men, women and children of the region have benefitted from improvement in 57 schools/kindergartens, 23 healthposts, 11 water supply, 19 street-lightning, 3 school-buses, 12 energy efficient microprojects which use alternative energy sources and so on. This happened through joint effort of the citizens, oblast/rayon/local level governments, CBA Project and the private sponsors.
Third phase of CBA project will be implemented during 2014-2018 with a total budget of 23.8 million Euro, provided by the European Union (23 million Euro) and UNDP (800,000 Euro). Its objective is to promote sustainable socio-economic development at local level by strengthening participatory governance and fostering community-led initiatives across Ukraine
ій Україні.