Details

Created: 15 November 2014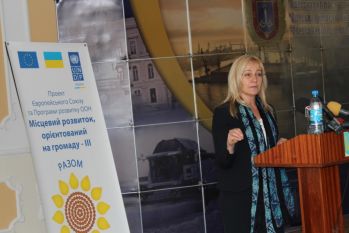 The Third phase of Joint EU/UNDP Project "Community Based Approach" (CBA) was successfully launched in all oblasts of Ukraine. During September-November 2014 more than 2000 of representatives of oblasts and local authorities, civil societies, private sector and media to discuss cooperation for promoting community-led local sustainable development further to improve the living conditions of people in Ukraine. The participants of the events discussed further perspectives of cooperation for sustainable local development. Donetsk oblast was the last where the Third phase CBA Project was launched on regional level.
During the launching of the Third phase of the CBA Project trilateral Partnership Agreements were signed between the leadership of oblast state administrations, oblast councils and UNDP and the competitive selection of rayons for participation in the Project was announced. Currently the selection process was finished in 15 oblasts. Information about the results of competitions can be found here.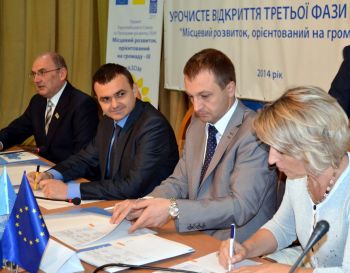 During regional seminar an Action Plan for Project implementation in oblasts was introduced. Third phase of the Project will support local authorities in dissemination of best practices and experience in participatory planning and further dissemination of the community based approach. The Project activities will focus on rehabilitation of social and communal infrastructure in the area of energy efficiency, health care, environment, water supply, rural economy. The Project will support Ukrainian Government in implementation of decentralization reforms and in dissemination of innovative approaches for participatory planning and for promotion of sustainable social economic development on local level through the knowledge management hub and through implementation of the appropriate courses into curriculum of 20 universities.
The Project will also support rehabilitation of the infrastructure in Donetsk and Luhansk oblasts, which were damaged during armed conflict. 8 rayons in Luhansk oblst and 8 rayons in Donetsk oblast will participate in Third phase. Besides CBA will support projects aimed to support internally displace people from south-eastern regions.
Third phase of CBA project will be implemented during 2014-2018 with a total budget of 23.8 million Euro, provided by the European Union (23 million Euro) and UNDP (800,000 Euro). Its objective is to promote sustainable socio-economic development at local level by strengthening participatory governance and fostering community-led initiatives across Ukraine