Details

Created: 04 February 2015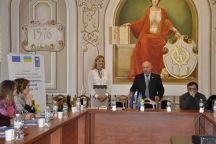 An annual Meeting for summarizing and planning of the Network of CBA partner Universities started its work on 4 February 2015. This year the event took place at National University "Ostroh Academy". During the next 2 days coordinators from partner universities will summarize the results of their work in 2014 and will also develop a plan of activities for 2015. Representatives of 21 academic institutions from different regions of Ukraine participated in the work meeting.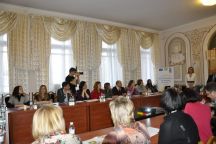 Head of Ostroh Academy Ihor Pasichnyk opened the event. In his welcoming speech he stressed that: ""Without historic memory we cannot bring up the new generation of patriots. We are representatives from different universities. We all have the same aim – cultural and informational: to promote Ukrainian culture among Ukrainians and foreigners."
Svitlana Slabinska, Monitoring and communication specialist of EU/UNDP Project "Community Based Approach" also welcomed participants and outlined the main areas for further cooperation with the Network of universities in terms of Projects' Third phase.
Capacity building is among key areas of interest for CBA Project. For further promotion of the methodology of sustainable local development the project developed partnership with academic institutions in 2012. As of today CBA established partnership with thirty universities from different regions.