Details

Created: 16 March 2015
International Project Manager of CBA Project Hendrik van Zyl and Community Development Specialist Olena Ruditch visited Zaporizka oblast in March 2015. Project representatives met with oblast authorities to discuss further areas of cooperation in the region.
During the meeting first deputy head of Zaporizka oblast state administration Grygoriy Samardak underlined that oblast authorities are ready for cooperation with the Project: "Support of CBA Project implementation is one of the priorities for the oblast. Some issues we address ourselves, but our financial resources are limited", said Mr. Samardak.
"CBA Project made a significant impact on community development and social mobilization of our region. You are the one who helped our oblast authorities embrace hope in people about future", underlined Viktor Mezheyko, the head of Zaporizka oblast council.
International Project Manager of the CBA Project Hendrik van Zyl thanked oblast authorities for their support and contribution, "without this Project implementation would be imposible".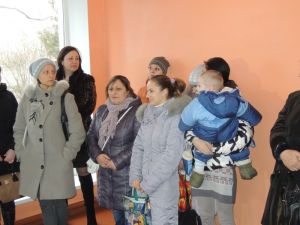 CBA Project representatives visited reconstructed rayon health post for accommodated for IDPs temporary living in Novovasylivka Pryazovsky rayon with a support of EU/UNDP CBA Project and local authorities. After reconstruction of the building the health post will accommodate 146 people.
Thanks to the reconstruction of the healthpost in Novovasylivka IDPs will have normal living conditions. The heating, water supply and sewerage systems were installed, doors and windows were replaced. The total cost of the microproject was about UAH 380 ths.
Hendrik van Zyl talked to people who live in the premise of the healthpost and discussed with them their everyday issues. International Project Manager also visited IDPs which now live in the health post of village Davydivka, Yakymivsky rayon Zaporizka oblast. This building was also reconstructed with a support of the CBA Project and local authorities. Doors and windows were replaced in the healthpost. This center is ready to accommodate up to 60 IDPs.
Hendrik van Zyl also visited scientific resource center in sustainable development at the faculty of sociology of Zaporizky national university.