Details

Created: 29 May 2015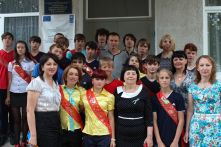 With a support of the joint EU/UNDP Project "Community Based Approach to Local Development" (CBA), oblast, rayon, local authorities and community organizations two more renovated care homes for accommodation of internally displaced people (IDPs) were officially opened in towns Khorosheve (Kharkiv oblast) and Kotovsk in Odesa oblast.
Distinguished invitees of the official opening in Khorosheve included the Head of oblast state administration Ihor Raynin, Head of oblast council Sergiy Chernov, UNDP Ukraine Communications Officer Yevgeniy Zelenko, leadership of rayon state administrations and rayon councils, as well as IDPs from Luhansk and Donetsk regions.
In Khorosheve new doors, equipped halls and additional bathrooms, special hand-rails in the corridors, elevators, halls were installed, also there will be rampant, special lifts in the bathrooms. After all works are done this place will be a shelter for approximately one hundred people. The total cost of the microproject is app. UAH 860 ths., the EU / UNDP CBA Project provided app. UAH 700 ths.
In Kotovsk boarding school for orphan children, new doors were installed, capital repairmen of the building, internal premises and toilets, and sewerage, water supply, and electricity systems. In the reconstructed building around 90 persons will find shelter. Total cost of this micro project is more than 1.5 mln UAH, out of this EU\UNDP part is more than 920,000 UAH.
Besides renovation of the IDP object in Khorosheve, Kharkivska oblast, the joint EU/UNDP Project implemented one more microproject in Balakliya rayon. Now thanks to capital refurbishment of the school premises in Balakliya rayon and renovation of the rooms internally displaced persons live in normal conditions. The premise has new door and windows, some of the rooms, toilets and bathrooms are already renovated, the heating system is installed. The total cost of the microproject is more than UAH 450 ths.
Besides the reconstructed object in Kotovsk city, at the beginning of March, in Odessa region EU\UNDP Project officially opened another object for IDPs accommodation – rebuilt boarding school in Karolina-Bugaz, Ovidiopolskyi rayon. In the teaching building, hostel and crossing, new windows and doors were installed. Total cost of this micro project is more than one mln UAH, out of this, EU\UNDP part is more than 630,000 UAH.
The European Union jointly with the UNDP and in partnership with local authorities supports community projects to restore 21 social infrastructure objects in 7 oblasts – Dnipropetrovska, Kharkivska, Poltavska, Zaporizka, Odeska, Donetska and Luhanska – with a total budget of around one million dollars.